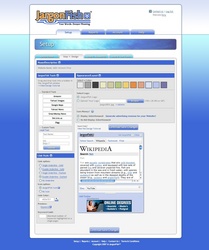 JargonFish allows us to effortlessly incorporate any number of interactive resources to our content
PHOENIX (PRWEB) October 18, 2007
Publishers using the JargonFish application value having one-click access to a wide range of relevant, non-intrusive and analogous content, and are finding that visitors are spending more time engaging with their content.
"As the go-to resource and community for eldercare and care giving, we want to provide caregivers with a wide array of resources," said Julie Deaton, Senior Director, AGIS.com. "JargonFish enables us to easily expand the relevant content we're able to offer through their application. Our users gain access to additional relevant information and content without having to leave the page they're on."
"JargonFish allows us to effortlessly incorporate any number of interactive resources to our content," said Todd Horne, CEO of The Enthusiast Network, the world's largest automotive enthusiast network of web sites. "We can now engage with our various enthusiast audiences in an entirely new way, enabling them to find complementary content, programs, applications and information directly from our site. The JargonFish custom tool feature also allows us to cross-reference information on our own sites, which further leverages the value of both our editorial and user-generated content and increases the stickiness of our network as a whole."
"Due to the customization capabilities and robust feature set of the JargonFish application, it has the potential to have a pivotal role across any number of content channels and publishers," said Steve Armstrong, President and CEO, AdOn Network(R) creator of the JargonFish application. "With JargonFish, publishers can offer visitors to their site a reason to engage with their content on a deeper level and have a more fulfilling experience that they can't get anywhere else, become even more of a resource for visitors than they originally intended."
The JargonFish application is a fully customizable in-text tool, that exponentially enhances the user experience by offering one-click access to a diverse range of pre-defined resources such as video, image and keyword search from Flickr, YouTube and Yahoo, ecommerce through eBay and Amazon, social bookmarking tools and Wikipedia results, among other resources.
Publishers also have an unprecedented level of control via the JargonFish platform, allowing them to offer exclusive or customized tools, related content or a plethora of desired features and distinctive resources above and beyond the pre-defined offerings.
Publishers using JargonFish will also have access to additional display advertising revenue all accessible from a single keyword-activated JargonFish enabled window.
About JargonFish
JargonFish is pioneering a new level of in-text engagement. With JargonFish's new customizable in-text content application, web publishers have the ability to exponentially enhance their visitor experience by offering one-click access to a myriad of highly interactive, customer-centric resources, such as video, image and text search results from YouTube, Flickr and Yahoo, ecommerce access through eBay and Amazon, social bookmarking tools, Wikipedia results, as well as additional display advertising inventory and related sponsored search revenues, all accessible from a single keyword-activated JargonFish window.
JagonFish offers an innovative and proven customer engagement solution that reinvents the advertising-centric in-text medium, enhancing the user experience to provide improved resources, information and functionality to the end user. For more information about JargonFish, visit: http://www.jargonfish.com.