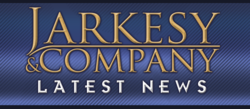 Houston, TX (PRWEB) December 07, 2011
George Jarkesy, Chairman of the National Eagles and Angels Association, and noted investor and money manager has written a scathing denunciation of the November jobs report. Looking at more than the unemployment numbers, Jarkesy shows that our economy has not yet recovered from the recession.
Mr. Jarkesy stated that "From the beginning of the recession, in December of 2007, until the first quarter of 2009, job creation fell 24% to 5.8 million jobs. The numbers don't look much better now – we have 18% of Americans unemployed or underemployed." His editorial points out the need to reduce regulation and encourage small business job growth, rather than expensive and ineffective stimulus plans.
Mr. Jarkesy addresses the newly created jobs by saying that "50,000 of the new jobs in November were in the retail sector, and 22,300 were temporary jobs, so they're not exactly long term, well-paying jobs."
For additional information on the November Job's Report read the full article on Business Insider.
About George Jarkesy and Jarkesy & Company
A money manager and successful professional investor, respected financial and corporate advisor, George is currently focused on managing his and his partners many investments. He is a frequent market commentator and guest on FOX Business News, FOX & Friends, and CNBC. He is also the host of the nationally syndicated "George Jarkesy" radio show, which will launch on January 6, 2012. George started his career in the financial services industry with a New York Stock Exchange member. George also serves on the Finance Committee of the Republican National Committee and is an active member of the National Investment Banking Association, The Jarkesy Foundation, and Chairman of The National Eagles and Angels Association. For more information on Jarkesy & Company, please visit: http://www.jarkesy.com
About the National Eagles and Angels Association
The National Eagles and Angels Association (NEAA) is a select group of individual investors, family offices, institutional investors, and successful serial entrepreneurs. Members of NEAA come together at local chapter meetings to learn about undervalued companies, to establish long term relationships, to educate and to be informed on common financial and business interests; thereby becoming a more informed and prepared investor. Through the Internet, our national membership creates connections among its members to promote small business. Through local Chapter meetings, members cement relationships and build a long term epicenter for doing business. Our membership fee guarantees that our members are serious investors who attend Chapter Meetings in search of opportunities in the market. NEAA members have the wherewithal to invest in opportunities that they believe will appreciate greatly in value.
Contact:
Jessica Elkin, Associate Director of Operations
Jarkesy & Company
281-290-6655
National Eagles & Angels Association
###