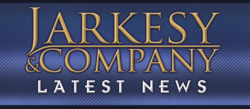 Houston, TX (PRWEB) December 15, 2011
George Jarkesy, Chairman of the National Eagles and Angels Association, and noted investor and money manager, has written a vital article on the new Senate Defense Appropriations Bill, S.B. 1867. This bill contains provisions that allow for the indefinite detention of American citizens without trial.
Mr. Jarkesy stated that "this year's bill, S.B. 1867, adds provisions that allow the indefinite imprisonment of all accused terrorists, even American citizens…the United States cannot hold the moral high ground in the promotion of democracy and liberty, when we cannot uphold the most basic rights of our own citizens."
Mr. Jarkesy also assigns blame to the Obama administration's response to the bill – "not a condemnation of overreach and the abrogation of American rights, but a condemnation of the constraints placed on the Presidency to detain American citizens without cause or trial."
The full article can be read on Business Insider.
About George Jarkesy and Jarkesy & Company
A money manager and successful professional investor, respected financial and corporate advisor, George is currently focused on managing his and his partners many investments. He is a frequent market commentator and guest on FOX Business News, FOX & Friends and CNBC. He is also the host of the nationally syndicated "George Jarkesy" radio show, which will launch on January 6, 2012. George started his career in the financial services industry with a New York Stock Exchange member. George also serves on the Finance Committee of the Republican National Committee and is an active member of the National Investment Banking Association, The Jarkesy Foundation and Chairman of The National Eagles and Angels Association. Jarkesy & Company is the home office of Mr. Jarkesy and works with media related to investing and political issues.
About National Eagles and Angels Association
The National Eagles and Angels Association (NEAA) is a select group of individual investors, family offices, institutional investors, and successful serial entrepreneurs. Members of NEAA come together at local chapter meetings to learn about undervalued companies, to establish long term relationships, to educate and to be informed on common financial and business interests; thereby becoming a more informed and prepared investor. Through the Internet, our national membership creates connections among its members to promote small business. Through local Chapter meetings, members cement relationships and build a long term epicenter for doing business. Our membership fee guarantees that our members are serious investors who attend Chapter Meetings in search of opportunities in the market. NEAA members have the wherewithal to invest in opportunities that they believe will appreciate greatly in value.
# # #