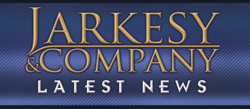 Houston, TX (PRWEB) December 13, 2011
Jarkesy & Company– George Jarkesy, Chairman of the National Eagles and Angels Association, noted investor, and money manager, appeared on SIRIUS Patriot Radio's Wilkow Majority radio show last week. The show, usually hosted by Andrew Wilkow, was guest hosted by David Webb, National Tea Party Federation spokesman, and co-founder of the Black Republican Forum. Jarkesy discussed several issues including the recent Senate Bill 1867's provision allowing indefinite detainment of Americans, and his views on capital punishment and terrorism.
Jarkesy first discussed the dangerous implications of Senate Bill 1867, Section 1031, which allows for the indefinite detainment of all accused terrorists, even American citizens, without a trial - a gross violation of the United States Constitution.
Jarkesy stated that "this year's bill, S.B. 1867, adds provisions that allow the indefinite imprisonment of all accused terrorists, even American citizens." He added that there should be a distinction between citizens and non-citizens, and that U.S. citizens should not be subject to detention without trial, because this could lead to a slippery slope where regular citizens are arrested for speaking out against the government.
Next, Jarkesy presents his view on treason and potential execution for persons convicted of treason. He states they should have to, "live, get old, and live the stresses of what their sins were…reflect…a much stronger penalty than giving them the quick, easy out of death, which gives them glory". He backs up the point by asking: which is worse? Saddam Hussein who ended his life with the world seeing pictures of him an an old, confused "bum" or Osama bin Laden, dead.
Jarkesy and Webb debate both topics further, and their interpretations can be heard in the shows entirety here: George Jarkesy on the Wilkow Majority Radio Show
Jarkesy closed with "It was an honor to be on Andrew Wilkow's show 'Wilkow Majority' and to be interviewed by guest host David Webb. Patriot Radio gets down to real American issues, and I look forward to being on their Sirius radio Channel 125 in the future!"
To hear Mr. Jarkesy's full comments on the Wilkow Majority, please visit his website at http://www.jarkesy.com, or to learn more about National Eagles and Angels, visit http://www.eagleandangel.com.
About George Jarkesy and Jarkesy & Company
A money manager and successful professional investor, respected financial and corporate advisor, George is currently focused on managing his and his partners many investments. He is a frequent market commentator and guest on FOX Business News, FOX & Friends and CNBC. He is also the host of the nationally syndicated "George Jarkesy" radio show, which will launch on January 6, 2012. George started his career in the financial services industry with a New York Stock Exchange member. George also serves on the Finance Committee of the Republican National Committee and is an active member of the National Investment Banking Association, The Jarkesy Foundation and Chairman of The National Eagles and Angels Association. Jarkesy & Company is the home office of Mr. Jarkesy and works with media related to investing and political issues.
About National Eagles and Angels Association
The National Eagles and Angels Association (NEAA) is a select group of individual investors, family offices, institutional investors, and successful serial entrepreneurs. Members of NEAA come together at local chapter meetings to learn about undervalued companies, to establish long term relationships, to educate and to be informed on common financial and business interests; thereby becoming a more informed and prepared investor. Through the Internet, our national membership creates connections among its members to promote small business. Through local Chapter meetings, members cement relationships and build a long term epicenter for doing business. Our membership fee guarantees that our members are serious investors who attend Chapter Meetings in search of opportunities in the market. NEAA members have the wherewithal to invest in opportunities that they believe will appreciate greatly in value.
###