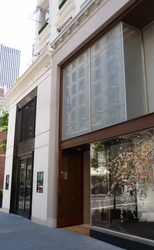 "I suggested a design solution that would allow us to fabricate and assemble the steel and glass façade in our shop and install the entire structure as one piece in one day," explains company president Joseph Jaroff.
Hicksville, NY (PRWEB) May 12, 2010
When famed jewelry designer David Yurman opened his Madison Avenue flagship store last week, first impressions of the multimillion dollar space were set by the warm brown steel and cool translucent glass façade created by the architectural metal design and fabrication firm, Jaroff Design & Mison Concepts, Inc. The David Yurman Townhouse, the jeweler's biggest retail investment to date, invites clients to experience the collection in a space custom-designed to perfectly represent the essence of a brand noted for its unique, yet timeless, elegance. As such, the carefully calibrated façade employs rich materials and unusual textures to both stand-out and fit-in to the classic Madison Avenue streetscape. In order to realize this refined aesthetic for the storefront, the team at Jaroff Design & Mison Concepts had to bring together their expertise in architectural metal fabrication, custom glass and wood detailing, and integrated lighting with the nuts-and-bolts requirements of building safety codes, sprinkler systems and the reality of New York City construction.
"I knew that we wouldn't have a lot of time for installation, so when we first took the job, I suggested a design solution that would allow us to fabricate and assemble the steel and glass façade in our shop and erect the entire structure as one piece in one day," explains company president and founder Joseph Jaroff. "We assembled the two-story entry and display sections at our facility on Long Island, and then were able to slip this modern, sleek box into the original architecture's neoclassical marble frame on Madison Avenue using two cranes and a couple of our top guys."
As a designer in his own right, Jaroff specializes in problem-solving to help architects and high-end clients realize unusual, challenging or particularly refined applications for architectural or ornamental metal and glass. Since fashion designers tend to push architectural boundaries too, Jaroff's company has been involved in numerous couture retail projects, over the years, including flagship stores for Alexander McQueen, Issey Mikaye, Stella McCartney and Polo Ralph Lauren. Both Jaroff and David Yurman were trained as sculptors, which allowed a shared language to guide their discussions about texture and materials for the façade.
Following the Townhouse design envisioned by architectural firm Gabellini Sheppard, Joe and his team produced a storefront that would not only be beautiful and brand-defining, but also maximize David Yurman's retail visibility. The main structure of the façade is fashioned out of a faux-Corten steel, for which Mison Concepts' custom metal fabricators developed a hand-crafted finish that would mimic the warm, reddish-brown tone of the Corten material but would be better suited to this street-level application. The majority of the first floor, however, is dedicated to a transparent glass display case, which invites passersby to peer past flowering branches and milky, etched glass panels to see the interior of the sales floor beyond. The second level is entirely made up of vertically etched glass, which allows sunlight to stream into the open, three-story atrium at the front of the store, but also provides an opaque surface upon which the company can project images and video. The opacity of the directional etching then turns the window into a dynamic billboard on Madison Avenue, with constantly changing content and total flexibility.
Once captivated by this first impression, interested clients enter the store through finely sanded, rosewood-framed custom entry doors, set back into the building. Behind all this luxurious surface-detail, the façade also houses an integrated architectural lighting system and plumbing for the sprinkler system that protects the store. For the interior space, Jaroff Design & Mison Concepts fabricated blackened steel trimming and channels for all three display floors. This dark steel edging provides contrasting detailing against the white walls, framing all the doorways, elevator jambs and dropped wood ceiling throughout.
Jaroff Design & Mison Concepts, Inc. were founded by artist Joseph Jaroff to provide custom metal & glass design and fabrication for the art, architecture and interior design communities. The companies' unique combination of studio and workshop, design consulting and design realization, artistic vision and real-world practicality is unparalleled in the field, producing architectural metal & glass products that benefit from this constant interaction. Jaroff Design offers design consulting steeped in the technical knowledge of materials and Mison Concepts is a dedicated custom metal fabrication facility. Their combined services address every stage of architectural metal & glass projects, from inspired concept and careful detailing to skilled fabrication and expert installation.
###