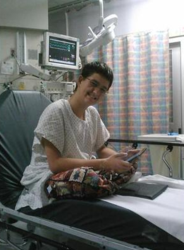 This final push to help Jason raise the $5,000 needed to as the co-pay is so high, one of his medications is $500.00/month
(PRWEB) November 30, 2012
Jason's Hope is what family and friends are calling his $5,000 fundraiser to help him fight heart disease and muscular dystrophy that ends on December 8, 2012.
In 2006, Jason was diagnosed with an unknown form of Muscular Dystrophy. Over the past six years, doctors performed DNA tests, Muscle Biopsies, Nerve Condition Tests and Echo Cardiograms, and still had no idea what form of MD Jason had. Jason's muscles were slowly breaking down, but his heart was healthy.
This final push to help Jason raise the $5,000 needed to as the co-pay is so high, one of his medications is $500.00/month. Through all of this, Jason is strong. He is not only strong, but he is smiling every day.
Lets be an inspiration to this young man that needs our support. Please, help in anyway you can and help raise money to get him the medication he needs! For more information on Jason's Hope or how you can help, please visit http://www.giveforward.com/jasonshope