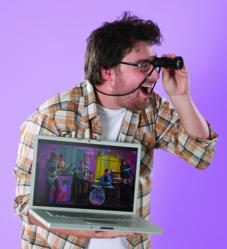 "In a way, directing this video brings me full circle as a filmmaker and completes the connection with 'Every Avenue'," Jason reflected.
Sarasota, FL (Vocus/PRWEB) April 04, 2011
Ringling College of Art and Design today announced that senior and Digital Filmmaking Trustee Scholar, Jason Letkiewicz directed a music video that debuted at number one on MTV.com. Developed, directed, and shot by Jason for his former band 'Every Avenue,' the music video is for the song "Mindset" (http://buzzworthy.mtv.com/2011/03/16/every-avenue-mindset-video/).
Prior to attending Ringling College, Jason was a guitarist with 'Every Avenue' during high school and toured with the band around the country for several years. After his high school graduation, while the band was recording a new demo, Jason received his acceptance letter to Ringling College and he left the band to attend college full time.
"In a way, directing this video brings me full circle as a filmmaker and completes the connection with 'Every Avenue'," Jason reflected. The video was created "on-spec" and was shot entirely on the Ringling College campus. Produced for a meager budget of $500, the money covered the cost of paint and supplies to build a set, and provided food for the 50-member cast and crew, made-up largely of Jason's Ringling College classmates, who volunteered their time.
Ringling Digital Filmmaking Department Head Bradley Battersby fully supported the independent project, providing campus resources and equipment as well as artistic guidance. Crediting Battersby's support, Letkiewicz said "This video would have never have happened without Ringling's creative and practical support. The collaborative environment here enabled us to go beyond anything I could have ever imagined. And, the timing of the release is sensational. 'Mindset' is hitting big right now, just a month before I am graduating and will be looking for a job!" Jason concluded. (http://www.jasonletkiewicz.com)
As part of MTV's Indie Music Month, Jason's video of Michigan punk-pop quintet "Every Avenue" premiered on MTV.com as number one and the band was lauded as one of the "the most exciting artists in the indie music scene." The video was described by MTV Buzzworthy Blogger Jason Newman as "a hilarious nod to Every Avenue's prepubescent female fan base, as the band members become the kidnapping victims to an overly enthusiastic young lady. With the acumen and stealth of a professional hitman – make that hitgirl – the fan employs her Fisher-Price "My First Stalker" kit to snatch each band member and hold him hostage. Pizza, poison arrows and the band's own CD are all used against them, culminating in a forced rock show in a very pink bedroom." (viewable at http://buzzworthy.mtv.com/2011/03/16/every-avenue-mindset-video/)
Ringling College's Digital Filmmaking Program is now in its fourth year and will graduate its first class, including Jason, May 6, 2011. Applications to the Digital Filmmaking major have nearly doubled from last year since the College launched its Digital Filmmaking Studio Lab program in association with Future of Films, LLC. Plans to transform a campus facility into a professional post-production facility won the support of the Sarasota County Commission, which has granted $1.75 million in economic development funds to seed the project. Information on the academic program is available at http://www.ringling.edu/DF.214.0.html. Details on the Studio Lab and the entire 2011 season are available at http://www.prweb.com/releases/2011/2/prweb8124692.htm
"We've built the number one animation program in North America and our constant focus for the past four years has been on creating the number one digital filmmaking program," stated Dr. Larry R. Thompson, president of Ringling College of Art and Design. "The success of students like Jason validates our efforts and gives us great fulfillment in helping to facilitate the expression and recognition of their creative vision."
About Ringling College of Art and Design
Ringling College of Art and Design is a private, not-for-profit, fully accredited college offering the Bachelors of Fine Arts degree in 13 disciplines: Advertising Design, Computer Animation, Digital Filmmaking, Fine Arts, Game Art & Design, Graphic & Interactive Communication, Illustration, Interior Design, Motion Design, Painting, Photography & Digital Imaging, Printmaking and Sculpture, and a Bachelor of Arts degree in the Business of Art & Design. Located in Sarasota on Florida's Gulf Coast, the picturesque 47-acre campus now includes more than 100 buildings, and enrolls 1,320 students from 46 states and 46 countries. It is recognized as being among the best and most innovative visual arts colleges in the United States as well as a leader in the use of technology in the arts. http://www.Ringling.edu
About Future of Films LLC
Future of Films, LLC leverages unique opportunities in media production and content as the old models rapidly change, focusing on convergences between traditional and new media. Co-founders Sam Logan (Sarasota) and David Shapiro (New York) are bringing to bear their extensive relationships in the film and TV industry to provide for rapid development of the Ringling Digital Filmmaking Studio Lab, a groundbreaking project that combines education with film development. The Studio Lab is designed to provide Ringling College of Art and Design students have hands-on experience with top-tier directors, producers, writers, and cinematographers as well as to help Sarasota become an integral part of the film industry.
# # #