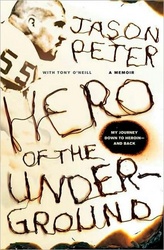 After reading an advance copy, I called him Sunday and didn't know quite how to begin the interview
LINCOLN, Neb. (PRWEB) August 25, 2008
Peter King of Sports Illustrated claims he was completely thrown by Jason Peter's memoir. "After reading an advance copy, I called him Sunday and didn't know quite how to begin the interview," he says. "So I just said it. 'I'm shocked you're still alive.' 'I am too,' Jason said. This is more than a book about a druggie who had a failed pro football career. It's a good look into the sordid world of how a pro football player survives when he feels pain every day of his life."
Hero of the Underground (St. Martin's Press, July 8th, 2008, $24.95) details Jason's time playing with the University of Nebraska Cornhuskers, to experiencing the exhilarating highs of his first NFL game, to his darkest times staring death in the face, and finally the culmination of his remarkable path back to health, happiness, and success from within.
After hitting rock bottom, Jason recognized the need to turn his life around. Now clean, Jason resides in Lincoln, Nebraska with his wife. He co-hosts a popular ESPN sports radio program called "The Spread." Jason Peter's ESPN radio show airs daily on ESPN1480 from 2:00 – 6:00 p.m. Central Time. Hear it online at http://www.espn1480.com.
To read the full Peter King review, go to http://sportsillustrated.cnn.com/2008/writers/ peter_king/06/08/offseason/index.html
(Due to its length, this URL may need to be copied/pasted into your Internet browser's address field. Remove the extra space if one exists.)
For more media information on the book, please visit http://jasonpeter.com.
Hero of the Underground
A Memoir
by Jason Peter with Tony O'Neill Publication Date: July 8th, 2008
340 Pages For more information or to schedule an interview with the author, please contact info@jasonpeter.com.
MULTIMEDIA GALLERY http://www.businesswire.com/cgi-bin/mmg.cgi?eid=5758384