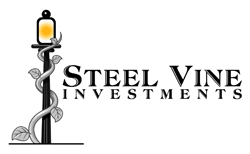 Jason Beaird joins Steel Vine Investment Fund, L.P. as Partner and Director of Marketing.
Nashville, TN (PRWEB) January 02, 2013
Jason Beaird joins Steel Vine Investment Fund, L.P., a hedge fund specializing in commodity and stock options based in Nashville, Tennessee. Beaird will serve as Partner and Director of Marketing, primarily focusing upon marketing to accredited high net worth and institutional investors. Beaird's past experience includes Director of Client Service for Jetstream Capital from 2005-2011 and positions at Goldman Sachs and Merrill Lynch in Private Wealth Management from 1999-2004. Immediately prior to joining Steel Vine Investment Fund, L.P., Beaird worked as a hedge and private equity fund placement agent with Constellation Associates through BTIG. He earned the Chartered Financial Analyst® designation in 2004.
Beaird received a Bachelor's degree from Brigham Young University in 1994 and a Masters in Business Administration from Vanderbilt University in 1999. Beaird joined Goldman Sachs in 1999 to work in the Private Wealth Management division in Houston, Texas. He is an active volunteer at the Martha O'Bryan Center in Nashville in addition to the Boy Scouts of America, Troop 82. He also serves on the programs committee of the MidSouth Alternative Investment Association.
Spencer Patton, founder of Steel Vine Investment Fund, L.P. said of Beaird's hire: "I am very pleased to be joined at Steel Vine by such an accomplished professional as Jason Beaird. He brings a great deal of experience in business development, investor relations, and asset management which will have a positive impact on all aspects of our growing investment company."
About Steel Vine Investments:
In 2009, Spencer Patton founded Steel Vine Investment Fund, L.P. as a hedge fund focused on providing uncorrelated absolute returns by following an investment strategy that Patton developed after years of research. The fund's core approach is to be a net writer (seller) of far out of the money option contracts on stock, commodity, ETF, and currency markets that are identified as being statistically and fundamentally likely to expire worthless. This investment approach works as an effective compliment to an asset allocation that includes other investments carrying direct long exposure. For more information, Jason Beaird can be reached at Jason (at) steelvineinvestments (dot) com.