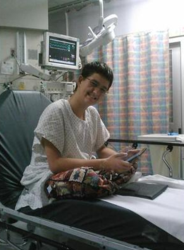 Mike, Jason, Christie and I wanted to thank each one of you from the bottom of our hearts
(PRWEB) January 02, 2013
"Mike, Jason, Christie and I wanted to thank each one of you from the bottom of our hearts," said the Stoke family on the Jason's Hope fundraiser, "How does one put into words the magnitude of your generosity has done for Jason's future? Thank you just seems to small."
In 2006, Jason was diagnosed with an unknown form of Muscular Dystrophy. Over the past six years, doctors performed DNA tests, Muscle Biopsies, Nerve Condition Tests and Echo Cardiograms, and still had no idea what form of MD Jason had. Jason's muscles were slowly breaking down, but his heart was healthy.
"We are all still in a state of shock over the amount raised. It's a Christmas Miracle. Jason will forever be grateful for your gift and it will bring him good health in the future too, just knowing we will be able to buy what he needs when he needs it," concludes the Stoke family letter, "Thank you thank you thank you from the very bottom of our hearts. You will forever be in our prayers, thoughts and heart always and forever."
For more information about Jason's Hope, please visit http://www.giveforward.com/jasonshope