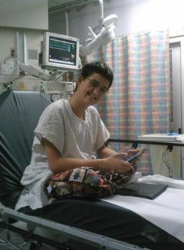 So the doctor believes Jason will be in flutter the rest of his life or until that part of his heart completely fails but either way as long as the lower portion of his heart beats correctly this should not effect his life or long-term future
(PRWEB) January 10, 2013
12 hours ago a post on Jason's Hope FaceBook page read that after a doctors visit it looks as if Jason's battle with a rare form of Muscular Dystrophy called Emery Dreifuss still continues. After the second EKG which showed the new dose of Sotalol was working and was still having abnormal rhythm, the doctor was pleased because the new meds were working.
However after his last visit the doctor mentioned that Jason had a 100% atrial flutter for the past 30 days. But after the echocardiogram performed and it showed no muscle damage so far.
"So the doctor believes Jason will be in flutter the rest of his life or until that part of his heart completely fails but either way as long as the lower portion of his heart beats correctly this should not effect his life or long-term future." said Teresa Stoke Jason's mother, "He will be on Blood thinners forever because of the risks of clots from the flutter which was disappointing because we were along with doctor hoping to get him eventually off blood thinners and control the flutter with meds but that is not meant to be."
To learn more about Jason's Hope or to follow his progress, please visit http://www.giveforward.com/jasonshope