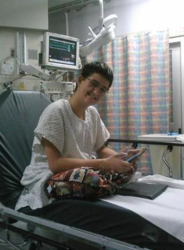 Even though this puts the Jason's Hope fundraiser well over the $5,000 they were seeking, it is still encouraged to continue to give
(PRWEB) December 08, 2012
Jason's Hope is a fundraiser developed by Jason's mother Teresa Stokes to help raise $5,000. This morning an anonymous donor that has been emailing Jason's mother every day this week has made a final donation of $3,000 to put Jason's Hope at $6,965.00.
"In 2006, Jason was diagnosed with an unknown form of Muscular Dystrophy. Over the past six years, doctors performed DNA tests, Muscle Biopsies, Nerve Condition Tests and Echo Cardiograms, and still had no idea what form of MD Jason had." said Teresa Stoke's Jason's mother, "Jason's muscles were slowly breaking down, but his heart was healthy."
Even though this puts the Jason's Hope fundraiser well over the $5,000 they were seeking, it is still encouraged to continue to give.
For more information about Jason's Hope, please click here http://www.giveforward.com/jasonshope