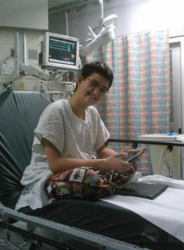 Giveforward agreed to re-open the fundraiser until tomorrow to allow them to donate the final amount
(PRWEB) December 11, 2012
"I wanted to let everyone know that our anonymous angel has asked us to re-open this fundraiser so they could match the donations. I am overwhelmed, speechless and eternally grateful," said Cheri Norton organizer of the Jason's Hope fundraiser. "Giveforward agreed to re-open the fundraiser until tomorrow to allow them to donate the final amount."
The donor known as "Anonymous" has helped this past week with helping Jason and his family raise the needed funds in order to pay for his medical bills.
"Money is important when it comes to paying the bills, however, money is not the most important thing we can give Jason, or anyone suffering from a disability, illness, depression etc." Cheri concludes, "We need to ban together as a community and help those in need. We need to pray; we need to give our time; we need to speak out and help motivate research and healing efforts."
For anyone that would still like to donate, please visit http://www.giveforward.com/jasonshope by the end of the day.