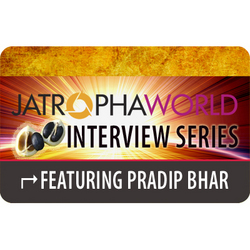 global association for exchange of information, guiding the regulatory bodies in respective countries to provide with the developments elsewhere.
Kuala Lumpur, Malaysia (PRWEB) January 5, 2009
Offering a glimpse into the critical topics and lively discussions anticipated at the upcoming Jatropha World Asia 2009 conference, a series of informative interviews with world-renowned Jatropha industry experts have been scheduled. Available by free download, the first in the series of exciting and informative interviews was held with Pradip Bhar, Chief Executive Officer and Managing Director of D1-Williamson Magor Biofuel Limited.
Particularly poised to offer a planters perspective on the direction of Jatropha as a sustainable biofuel in 2009, Mr. Bhar will be one among numerous Jatropha World Asia 2009 keynote speakers to discuss their innovative approaches and cutting-edge enterprise applications to Jatropha project developers and investors.
Mr. Bhar's affiliation with D1-Williamson Magor has not only given him a vested interest in the growth of the Jatropha sector, but has also placed him in a unique position to explore the future direction of the biofuel industry from a planter's perspective.
Over the past two years, D1-Williamson Magor Biofuel Limited has planted Jatropha curcas in over 130,000 hectares of waste farmland by means of an out growers' scheme. Local farmers plant and harvest Jatropha in their waste farmland, for which D1-Williamson Magor group provides a buy-back guarantee.
One of India's most prominent voices in the profit potential of biodiesel, Mr. Bhar stated that his company has new plantations under development and D1-Williamson Magor Biofuels Ltd expects to supply oil on a commercial scale - with an annual production goal of 400 million liters of oil - by 2010.
During his recent eye-opening interview, Mr. Bhar revealed his startling insights on:

The future direction of Jatropha as a biodiesel feedstock in 2009.
The impact of the global economic slowdown and crude oil volatilities on Jatropha's viability.
When Jatropha seeds and oil supplies will hit the market.
Jatropha co-products such as seedcake and glycerin.
Developing an ideal Jatropha business model; Small-scale vs. Large-scale Jatropha plantation management.
Short and long term Jatropha market and applications projections.
The importance of educating farmers on Jatropha toxicity.
To access Mr. Bhar's informative question and answer session, a must have for any Jatropha investor or entrepreneur, visit http://www.futureenergyevents.com/jatropha/pradip/ for a free download.
To date, the Jatropha World conference series has gathered to the discussion table 1500 participants from over 80 countries. Mr. Bhar stated that he is looking forward to Jatropha World Asia 2009 and "meeting Jatropha entrepreneurs across the world."
Mr. Bhar also spoke enthusiastically about the possibilities created by Jatropha World Asia 2009's "global association for exchange of information, guiding the regulatory bodies in respective countries to provide with the developments elsewhere."
An authoritative panel of more than two-dozen experts and industry leaders - with experience planting thousands of hectares of Jatropha in Brazil, East Africa, India and other Asian countries - will be joining Mr. Bhar at Jatropha World Asia 2009.
Those in attendance will accrue timely information from top scientists, investors, planters and government officials involved in Jatropha development and distribution. Ten hours of networking with CEOs, MDs and top decision-makers in the global Jatropha and biofuel sector is also available to enable beneficial and lucrative business contacts.
Jatropha practitioners and stakeholders looking to optimize their Jatropha operations and maximize their profit potential need to visit http://www.futureenergyevents.com/jatropha/attend/ and register for Jatropha World Asia 2009 in Kuala Lumpur scheduled 16-17 February.
About Jatropha World Asia 2009:
Jatropha World Asia 2009 brings industry experts and leaders together to deliberate and share strategies that will guide, inspire and assist key Jatropha sector with critical gap analysis; risk evaluations; trend and opportunity identifications in support of commercialization and growth of Jatropha in Asia and around the world. Jatropha World Asia is organized by the Centre for Management Technology, whose mission is to provide access to the latest technology and business intelligence through high profile alternative energy conferences.
###