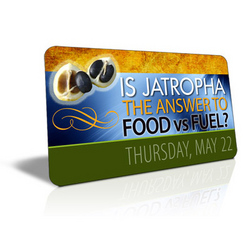 The rise in biofuel activity is being blamed in large part for global food shortages. The pursuit of biofuels has taken good agricultural land out of production, contaminated water supplies, and caused deforestation. Is Jatropha curcas the solution?
Miami, FL (PRWEB) May 15, 2008
Russell Teall, President and Founder of Biodiesel Industries and Dr. Charles Fishel, Chairman and CEO of Abundant Biofuels Corporation, will be conducting a free one-hour webcast to answer investors' questions and explore the long-term outlook of Jatropha. The webcast "Is Jatropha the Answer to Food vs. Fuel?" is scheduled to commence at 9 a.m. EST (GMT -5) May 22nd will be geared toward creating greater clarity surrounding Jatropha investments while offering a foretaste of the lively discussions and insights that will take place during the upcoming 3-day JatrophaWorld Miami 2008 conference. Attendees of the free webcast will have the opportunity to interact directly with each speaker and have their questions answered live and in real time.
Critical issues to be addressed during the Jatropha webinar include:

Why is it the answer to the world's biofuel needs?
Does it compete with land used for harvesting food crops?
What are the investment risks and barriers?
What is the expected yield and advantage over other energy crops?
Is it a sustainable alternative energy source?
Russell Teall brings to the webcast over 14 years experience in every aspect of the biodiesel industry. Under his direction, Biodiesel Industries has patented biodiesel production techniques for a wide array of feedstock.
Having extensive experience growing the Jatropha plant under a variety of conditions, performing feasibility studies and operating test plots in Mexico, India and the U.S., he is fully competent to make recommendations for the future development of Jatropha curcas in the U.S. and globally. Russell Teall is also involved in the research of cold tolerant Jatropha.
He states that, "Biodiesel has the potential to become the 'New Oil.' It is non-toxic, biodegradable, and made from renewable resources that reduce greenhouse gases. The feedstocks that are used to make it can be grown in a socially responsible manner that respects the environment and supports rural economic development, even in some of the most impoverished parts of the world. Jatropha is part of the solution."
When examining the "food vs. fuel" debate, Dr. Charles Fishel states, "The rise in biofuel activity is being blamed in large part for global food shortages. The pursuit of biofuels has taken good agricultural land out of production, contaminated water supplies, and caused deforestation. Is Jatropha curcas the solution?"
To assist in answering this pressing question, Abundant Biofuels Corporation, for which Dr. Charles Fishel is both Chairman and CEO, is currently building Jatropha as alternative fuel based projects in Colombia, Ghana and the Philippines. These projects are conducted on marginal, underutilized land and do not employ deforestation, use productive agricultural land or irrigation. It is estimated that this land will yield 13.3 million metric tons of Jatropha for biofuel when planting is complete.
Dr. Charles Fishel's affiliation with Abundant Biofuels makes him particularly poised to offer expert insight into the food vs. fuel debate. He is also knowledgeable regarding Jatropha based financing strategies from past finance and legal roles with Fortune 100 multi-national organizations.
The May 22nd webinar will offer a sampling of what investors can anticipate at the second JatrophaWorld 2008 conference scheduled in Miami, Florida June 9-11. Following on the heels of the highly successful and informative January 23-24 JatrophaWorld 2008 conference in Jakarta, the Miami symposium is expected to be just as beneficial and rewarding for those in attendance.
JatrophaWorld 2008 in Jakarta was attended by over 350 Jatropha experts and attracted a wide range of delegates from over 40 countries. Those at the summit included bankers, plantation owners, entrepreneurs, scientists, government officials, venture capitalists, financiers, scientists, biodiesel producers, and agronomists. The conference not only afforded an excellent overview and summary of the latest developments in Jatropha, but also became an environment conducive to making fruitful business contacts.
Those wanting to participate in the May 22nd webcast need to visit http://www.futureenergyevents.com/jatropha/webcast/ to register. The free one-hour webcast will offer Jatropha investors a platform to pose questions related to their investments directly to experts in the field and gain insight into the long-term outlook of Jatropha as a viable, sustainable biofuel.
About JatrophaWorld Miami 2008
JatrophaWorld 2008 Miami is a showcase of all the latest trends and shifts occurring in the Jatropha value chain, bringing together on a single platform, the best expertise to discuss and analyze the present and future dynamics of Jatropha from a technological and socio-economic angle. To date more than 200 delegates from 35 countries have already registered for this June event.
About Centre for Management Technology
CMT is dedicated to the provision of the latest global technology and business information in the chemical industry through high profile conferences focusing on renewable, liquid energy sources. CMT has organized industry specific conferences on Liquid Natural Gas, and LPG, ground breaking summit on technologies like Coal to Liquids, Gas to Liquids, and Bio-mass to Liquid, and alternative energy or future fuels forums like Biodiesel, Biofuels and Ethanol. This has established CMT as the market leader in promoting this nascent industry as an alternative global powerhouse.
# # #