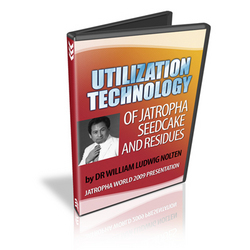 Utilization Technology of Jatropha Seedcake and Residues
Miami, FL (PRWEB) April 15, 2009
In a time when many industries are shrinking or closing down altogether, Jatropha plantation management continues to expand and grow. For one, Jatropha has proven itself as a profitable source of biofuel and as an alternative energy resource.
And now, thanks to the pioneering research of renowned Jatropha expert Dr. William Ludwig Nolten, entrepreneurs are discovering how to take 100% advantage of the Jatropha plant. For example, Dr. Nolten's research reveals that Jatropha seedcake and biomass revenues can exceed returns from the sale of Jatropha oil.
In his groundbreaking presentation, "Utilization Technology of Jatropha Seedcake and Residues," Dr. Nolten shares some startling revelations about the future of Jatropha curcas and growing Jatropha.
"Our strategy is to generate income for the farmers so that they keep maintaining the fields," Dr. Nolten remarks. He adds, "We make and keep the land fertile and the yields high... we keep the plantation owners, investors, farmers and the local community happy... and we keep the planet healthy!"
As Asia Director of Waterland Group and cutting-edge Jatropha researcher, Dr. Nolten is widely considered one of the industry's leading experts. The Waterland Group has planted over 60,000 hectares of Jatropha in Indonesia and has over 12,000 hectares already producing oil.
"Jatropha seeds and biomass residues are not waste substances... you can convert everything to make your project a success," notes Dr. Nolten.
Dr. Nolten's presentation, made at the Jatropha World Asia 2009 conference, was one of the highest rated in terms of usefulness and relevance. In this exclusive video, Dr. Nolten shares how to utilize all parts of the Jatropha plant for biofuel and a whole lot more:

Marketing Jatropha seedcakes and residues to the pharmaceutical industry.
How to tap into the very profitable biogas market.
Trading seed kernel meal as a highly lucrative livestock feed ingredient.
Creating organic fertilizer and soil conditioner from Jatropha agricultural waste.
Making agro-energy pellets for the cooking and heating needs of rural areas.
And much more...
The free video presentation is being released as part of the 2nd Jatropha World Americas 2009 conference initiatives. To receive instant access to Dr. Nolten's video presentation, visit http://www.futureenergyevents.com/jatropha/video2/.
The 2nd Jatropha World Americas 2009 itself promises to be one of the most important conferences for the Jatropha industry to date.
With the global energy crisis continuing to weigh on the world economy, Jatropha has become an important alternative fuel source. This year's event will bring together the industry's top agronomists and scientists, investors and financiers, biodiesel refiners, seed and equipment suppliers as well as government officials and NGO representatives.
It is one of the largest gatherings of individuals united by their interest in Jatropha and features a diverse schedule of expert speakers, industry roundtables and networking breakout sessions. For anyone involved with Jatropha, it is a must-attend conference.
The 2nd Jatropha World Americas 2009 is being held in Miami, Florida, on June 10 and 11, 2009. To register for the event, visit http://www.futureenergyevents.com/jatropha/attend/ .
About the 2nd Jatropha World Americas 2009:
The 2nd Jatropha World Americas 2009 brings industry experts and leaders together to collaborate and share relevant emerging strategies that will guide, inspire and assist key Jatropha sector influencers with critical gap analysis; risk evaluations; trend and opportunity identifications in support of commercialization and growth of Jatropha in Asia and around the world. Jatropha World Americas is organized by the Centre for Management Technology, whose mission focuses on providing access to the latest technology and business intelligence through high profile alternative energy conferences.
###