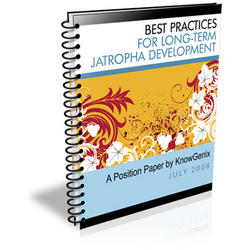 To ensure sustained use of natural resources, the development of biofuel needs to be carefully planned and managed
Hamburg (PRWEB) July 10, 2008
Access to Dr. R. Rajagopal's latest position paper 'Best Practices for Long-Term Jatropha Development' is being offered by free download. This instrumental paper establishes guidelines for developing sustainability standards for both small and large scale global Jatropha ventures. His November 2007 position paper 'Sustainable Biodiesel Feedstock: Jatropha: A Strategic Option'--downloaded by over 2000 individuals from around the world -- was the most discussed paper at the January 2008 JatrophaWorld Jakarta conference. The upcoming October 2008 JatrophaWorld Hamburg conference will offer further insights and timely information into Jatropha as a sustainable biofuel.
As Jatropha seed oil moves closer to commercialization as a viable alternative energy source, it is imperative to have sound sustainability initiatives in place. "Jatropha production and its use need comprehensive sustainability criteria just as other food crops", states Dr. R. Rajagopal of KnowGenix. "Besides, land resource management, water management and cultivation practices need better understanding in light of reported variations in Jatropha practices worldwide".
In his latest position paper, Dr. R. Rajagopal addresses criterion necessary for Jatropha to be a sustainable biofuel.
A few of the critical topics covered include:

The importance of having a detailed Life Cycle Assessment (LCA) for different technological pathways and crop choices to determine GHG (green house gas) balance.
The need to focus on soil impacts, water usage, land use patterns, GHG balance, biodiversity loss and social dimensions to ensure Jatropha's use as a sustainable biofuel feedstock.
The challenges inherent in mega Jatropha projects.
The importance of addressing key factors such as creating local value chains, leveraging carbon finance potential and reviewing the socio economic dynamics of a particular region before undertaking large scale Jatropha projects.
"To ensure sustained use of natural resources, the development of biofuel needs to be carefully planned and managed," asserts Dr. R. Rajagopal. This would entail addressing factors surrounding growing Jatropha such as agricultural land competition, biodiversity concerns, food versus fuel competition issues and scarce water resources.
Those wanting access to Dr. R. Rajagopal's timely and informative position paper 'Best Practices for Long-Term Jatropha Development' can visit http://www.futureenergyevents.com/jatrophapaper/ for a free download.
JatrophaWorld Hamburg 2008 conference scheduled for 20-21 of October will lend further insights into the sustainability of Jatropha as a viable alternative fuel. This crucial 2-day conference is the 3rd of its kind following on the heels of the well received and attended JatrophaWorld Jakarta and Miami, Florida, U.S. conferences held in January and June 2008 respectively, which attracted over 1000 participants from 55 countries.
JatrophaWorld Hamburg will gather Jatropha investors, agronomists, venture capitalists, financiers, biodiesel producers, and government officials from all four corners of the globe to share about:
Guidelines to developing sustainable Jatropha projects
Jatropha-to-Energy Certification
Jatropha for Rural Development
Scaling up Rural Community Projects for Commercial Value
Jatropha for Rehabilitation of Degraded Lands
Expert panelists for the conference will include individuals from the International Crops Research Institute for Semi-Arid Tropics (ICRISAT), Copernicus Institute & Fact Foundation and top executives from The Global Exchange for Social Investment and Agroils.
To attend JatrophaWorld 2008 in Hamburg, visit http://www.futureenergyevents.com/jatropha/attend/ to register. In conjunction to offering the latest developments and insights into Jatropha as an alternative energy source, the JatrophaWorld Hamburg 2008 conference will also afford those in attendance the opportunity to network with other international players in the Jatropha industry.
About Centre for Management Technology
CMT is dedicated to the provision of the latest global technology and business information through high profile conferences focusing on renewable, liquid energy sources. CMT has organized ground breaking conferences on Liquid Natural Gas, and LPG, future fuels like Biodiesel, Biofuels and Ethanol, and alternative energy like Coal to Liquids, Gas to Liquids, and Bio-mass to Liquid Technology. This has established CMT as the market leader in promoting this nascent industry as an alternative global powerhouse.
About KnowGenix
KnowGenix a growth strategy service firm with Chemicals, Materials and Energy practices is a Knowledge Partner of CMT. The firm researches business and technology trends in petrochemicals, fine, specialty and life science chemicals value chain as well as in materials and energy. It assists clients with growth strategy services through customized, competitive and timely solutions covering Asia, the Middle East, European Union and United States in collaboration with its global partners.
###