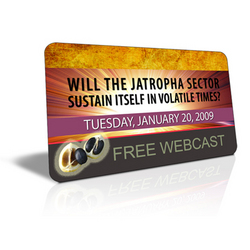 Will the Jatropha Sector Sustain Itself in Volatile Times?
Kuala Lumpur, Malaysia (PRWEB) January 14, 2009
In line with Jatropha World Asia 2009, a free webcast "Will the Jatropha Sector Sustain Itself in Volatile Times?" is scheduled. It will broadcast live 20 January 9AM GMT, 2:30 PM India, 4:00 PM Bangkok, 5:00 PM Kuala Lumpur and 8:00 PM Australian Central Time. This timely webcast will provide a platform for key industry experts to field Jatropha entrepreneurs' questions concerning the effect today's uncertain economy will have on their investments and the industry as a whole.
As Jatropha takes huge strides toward commercialization as a sustainable, clean burning biofuel, it is more important than ever that those with an interest in Jatropha curcas stay abreast of the effect today's unstable global economy has on the Jatropha sector.
Dr. Mike Taverner, Executive Chairman of Jatoil Ltd., will chair the upcoming webinar. Utilizing 20 years of professional expertise in agriculture, corporate governance, research and development, and training to develop a highly successful Jatropha business model, Dr. Taverner is ideally suited to answer pressing industry and investment questions by Jatropha entrepreneurs.
During the webcast, a few topics on the agenda for discussion and debate include:

Jatropha and Biofuel Industry projections for 2009
Oil price volatilities' impact on Jatropha
The best agricultural practices for long-term success in Jatropha plantation management
How to maintain investor interest during today's global recession
How to transform a Jatropha project idea into a profitable business
Strategizing to create carbon neutral Jatropha projects
In light of recent economic and Jatropha developments, Dr. Taverner commented on both the challenges and rewards expected for those vested in the Jatropha industry.
He stated, "We are heading into hard times where only the best businesses will survive and management of cash flow will be key while the capital markets remain tight - the challenge will continue to be accessing development funds and strategic partners to develop sustainable supply chains."
Dr. Taverner further purported that investors should expect to see results soon as, "the market will be encouraged by recent very positive coverage for Jatropha with airline test flights where the technical attributes/credential of Jatropha oil as feedstock for jet fuel have been described."
Those wanting to participate in the 20 January webcast need to visit http://www.futureenergyevents.com/jatropha/jan20webcast/ to register. The free webinar will offer a platform to have critical questions addressed and doubts clarified by key Jatropha decision makers.
The "Will the Jatropha Sector Sustain Itself in Volatile Times?" webinar is just a small sampling of the timely insights and critical information anticipated at the 16-17 February Jatropha World Asia 2009 conference in Kuala Lumpur.
Following on the heels of the well received and successful Jatropha World 2008 conference series held in Jakarta, Miami, Fl., and Hamburg respectively, this 2-day symposium is shaping up to be one of the most important biodiesel conferences of 2009.
Assembling under one roof, an authoritative panel of keynote speakers in every facet of the Jatropha biofuel industry, Jatropha World Asia 2009 will be "THE" one-stop venue to acquire up-to-the-minute information on the technical, financial, environmental, and regulatory issues affecting Jatropha seeds and oil development across the globe.
To secure a seat at this not-to-be-missed symposium, visit http://www.futureenergyevents.com/jatropha/attend/ to register.
About Jatropha World Asia 2009:
Jatropha World Asia 2009 brings industry experts and leaders together to collaborate and share relevant emerging strategies that will guide, inspire and assist key Jatropha sector influencers with critical gap analysis; risk evaluations; trend and opportunity identifications in support of commercialization and growth of Jatropha in Asia and around the world. Jatropha World Asia is organized by the Centre for Management Technology, whose mission focuses on providing access to the latest technology and business intelligence through high profile alternative energy conferences.
###