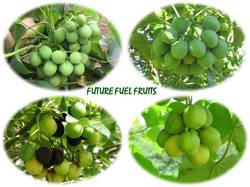 Jatropha have the highest payback of any biofuels
Rio de Janeiro, Brazil (PRWEB) May 28, 2008
Abcesso Biofuels intend to be large scale Jatropha Curcas, Biodiesel producer in Brazil.
The company main office is located in the Rio de Janeiro, Brazil, and it is intended to provide full technological cycle of production: cultivation of oil seed jatropha curcas, processing them into oil and final production of biodiesel. Abcesso Biofuels purpose is to attract investment in the creation of biodiesel production plant and jatropha curcas cultivation farming.
The first phase of project is to cultivate 5.000 hectares of land in 2009, which hope to grow to 300,000 hectares.
Jatropha Curcas - From Wikipedia, the free encyclopedia:
Jatropha is a genus of approximately 175 succulent plants, shrubs and trees (some are deciduous, like Jatropha curcas L.), from the family Euphorbiaceae. Jatropha is native to Central America, and has become naturalized in many tropical and subtropical areas, including India, Africa, and North America.
Originating in the Caribbean, the jatropha was spread as a valuable hedge plant to Africa and Asia by Portuguese traders.
There are hundreds of thousands of hectares, uncultivated ground. This land lies mainly in areas where the population leads a completely hopeless life. You can give these people a future and an existence, now and for generations to come.
"Jatropha have the highest payback of any biofuels".
If you are considering investing in a renewable energy business or simply like to find out more about biodiesel or Abcesso Biofuels. You may contact through e-mail or by telephone.
Press Contact: Vidar Lura
More info: Jatropha Curcas - Biodiesel - Brazil
###