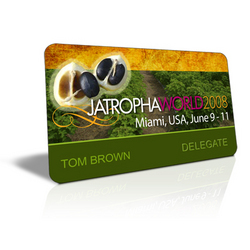 Based upon feasibility studies and test plots operated in India, Mexico and the US, I will be making comparisons and recommendations for the future development of jatropha in the U.S.
Miami, FL (PRWEB) April 16, 2008
The second JatrophaWorld 2008 conference will be held in Miami, Florida, U.S. on June 9-11, 2008. The conference will gather together the major authorities on the growing and harvesting of jatropha as an alternative energy source as well as the financing, genetics and agronomy of jatropha. The experts at the conference will provide answers to the eleven major myths concerning the jatropha industry. Delegates will also be able to network and develop new and potentially vital business relationships during the conference.
JatrophaWorld Jakarta in January 2008 was a huge success with over 350 delegates from more than 40 countries. JatrophaWorld Miami will capitalize on the progress made in Jakarta and will emphasize the production of jatropha as an alternative energy source in the Americas.
Over the two main days of the JatrophaWorld 2008 conference speakers will debunk a list of 11 major myths concerning growing jatropha, jatropha seed's use as a feedstock for biodiesel, and jatropha refining. The myths include:

It is impossible to attract investments for Jatropha seed oil Projects,
It is expensive and difficult to harvest Jatropha,
It is impossible to get reliable economic and project analysis by investors, and
There are no opportunities to meet the right global Jatropha industry players.
Some of the over 23 major speakers talk about their papers:

"Based upon feasibility studies and test plots operated in India, Mexico and the US, I will be making comparisons and recommendations for the future development of jatropha in the U.S.," said Mr Russell Teall of Biodiesel Industries, Inc. "I'll also discuss the development of cold weather tolerant jatropha."
Luis Rodolfo Montes Osorio, Plant Breeding Department, Wageningen University said, "I will discuss the Global Jatropha curcas Evaluation Project (GJEP) which comprises identification and widening the genetic base of J. curcas for breeding purposes, and is aimed at an increased and reliable biofuel production for different production systems of J. curcas."
Jon McLea, Director, Agricultural Development, Imperium Renewables said, "I will discuss all the important agronomic criteria related to plantation site selection. And I will address the process of evaluating the land suitability of the project area and those parameters that need to be considered during the exercise."
To show you the kind of material that is in store for you at JatrophaWorld 2008 Miami, CMT is providing complimentary access to a 15-minute video of Tobias Garritt's JatrophaWorld 2008 Jakarta presentation at http://www.futureenergyevents.com/jatrophavideo/. Garritt's "The Jatropha Challenge: Carbon, Communities & Challenges" reveals key insights into the sustainability of Jatropha against the backdrop of the food versus fuel debate and the issue of carbon emissions. The presentation gives you an excellent idea of the high standard of addresses to expect at JatrophaWorld 2008 Miami.
For those not up to speed with the jatropha industry, there will be a one day workshop entitled 'A-Z of Jatropha curcas L.' by Dr. ir. Raymond Jongschaap of the Global Jatropha Evaluation Program at the Wageningen University and Research Centre. This essential workshop will give newcomers a thorough introduction to the complete Jatropha value chain, so that they too can contribute and participate actively in JatrophaWorld 2008, and the Jatropha industry.
The third day of JatrophaWorld 2008 is devoted to a field trip firstly to ECHO's Global Farm with its diverse plantings of "underutilized" crops, including 3 ½ to 4 year-old jatropha plants, which are the first fully mature grove of Jatropha in Florida. And secondly to Dream Fuels Ltd.'s Jatropha Nursery where Jatropha growing methods will be demonstrated and discussed. There will also be a question and answer session with research staff.
Those wanting to keep up with the rapidly expanding jatropha alternative energy industry need to visit http://www.futureenergyevents.com/jatropha/attend/ to find out more about JatrophaWorld 2008 and how to register for the conference, field trip and workshop.
About Centre for Management Technology
CMT is dedicated to the provision of the latest global technology and business information in the chemical industry through high profile conferences focusing on renewable, liquid energy sources. CMT has organized industry specific conferences on Liquid Natural Gas, and LPG, ground breaking summit on technologies like Coal to Liquids, Gas to Liquids, and Bio-mass to Liquid, and alternative energy or future fuels forums like Biodiesel, Biofuels and Ethanol. This has established CMT as the market leader in promoting this nascent industry as an alternative global powerhouse.
About JatrophaWorld 2008
JatrophaWorld 2008 Miami is a showcase of all the latest trends and shifts occurring in the Jatropha value chain, bringing together on a single platform, the best expertise to discuss and analyze the present and future dynamics of Jatropha from a technological and socio-economic angle.
###