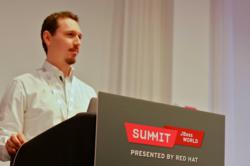 "We expect to be able to have operating systems that allow our services to run independently and fail and recover independently, so the JVM needs to change. This is going to happen, it's a no brainer; it really has to."
(PRWEB) July 16, 2012
"We measure the CPU of every container in singular hertz; measure memory in singular bytes and communicate the raw data exports to administrator systems and users, supporting new business and pricing models," he said.
Earlier at the event, Red Hat's Mark Little also drew attention to the challenges that Java faces in the cloud, including the difficulties in achieving high application density. "Unfortunately, the Java stack and JVM [Java Virtual Machine] in particular was never really architected for multitenancy," said Little, Senior Director of Middleware Engineering at Red Hat. "We expect to be able to have operating systems that allow our services to run independently and fail and recover independently, so the JVM needs to change. This is going to happen, it's a no brainer; it really has to."
You can view a short introductory version of John Matthew Holt's presentation at the Red Hat Summit 2012, or visit the Waratek TV You Tube channel for further videos.
Some of the potentially serious incompatibilities with multitenancy models are also discussed in a recent Gartner paper – Gartner Reference Model for Elasticity and Multitenancy "Business applications offered as cloud services typically must support elastic multitenancy; however, the traditional application platforms used in modern enterprise IT (application servers) do not possess this capability."
Waratek are also encouraging you to download the software and try it out.
About Waratek:
A dynamic start-up, Waratek is a 30-strong team of seasoned IT professionals, drawn from around the world to a Dublin headquarters where extensive and revolutionary research has led to more than 50 international patents, culminating in game-changing cloud technology. The company is focused on providing enterprise customers, data center and cloud providers with disruptive technologies to advance the performance and reliability of application infrastructure while significantly reducing costs.