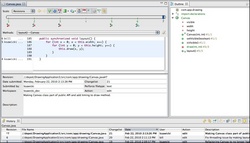 Not only have we brought our innovative visualization tool to the Eclipse platform, but we've customized it to give Eclipse developers more powerful SCM capabilities
Alameda, Calif. (Vocus) February 23, 2010
Perforce Software today released the newest Eclipse plug-in for its Software Configuration Management (SCM) system. With Release 2009.2, Eclipse developers can take advantage of a more fully-integrated Time-lapse View visualization tool, as well as, use Perforce's new shelving feature to facilitate code review.
"Not only have we brought our innovative visualization tool to the Eclipse platform, but we've customized it to give Eclipse developers more powerful SCM capabilities," said John Walker, senior marketing manager of Perforce Software. "We used pure Java to integrate Perforce's Time-lapse View, and now change history is organized in the content-specific manner that Eclipse users have come to expect."
Graphical View of File History with Time-lapse View
Time-lapse View provides a graphical view of the complete content history of an individual file. In a single view, developers can see how the content of a file has evolved.
Time-lapse View takes advantage of Eclipse's language-specific highlighting (Eclipse 3.4+). File change history can now be displayed in the standard Eclipse history view and branch view specifications can be managed using Eclipse.
Shelving Facilitates Code Review
The new shelving feature enables developers to cache modified files in the Perforce Server without checking them in. Shelving improves team collaboration and gives developers more flexibility in managing multiple projects. For example, Perforce Shelving allows users to:

Pass pending changes to others as part of code review/approval workflows,
Share work in progress with other team members before committing the changes,
Test changes in distributed build environments, and
Easily switch between development tasks in response to changing priorities.
Shelving is also supported in version 2009.2 of the Perforce Visual Client (P4V) and the Perforce Command-line Client (P4).
For more information about Perforce for Eclipse and version 2009.2 of the Perforce Software Configuration Management system, go to http://www.perforce.com .
Availability & Pricing
The Perforce Plug-in for Eclipse is available now at no additional charge with Release 2009.2 of the Perforce Server. Interested developers are invited to download and evaluate Perforce free from the Perforce website. This offer includes free technical support during evaluation.
Perforce pricing is all-inclusive; there are no add-on components that require licensing. End-user licenses for the complete solution, including one year of support and maintenance, start at $900 per seat; volume discounts are available.
For additional price and license information, visit http://www.perforce.com .
About the Perforce SCM System
Perforce, the Fast Software Configuration Management System, is an award- winning tool that versions and manages source code and digital assets for enterprises large and small. Perforce is easy to install, learn and administer; seamlessly handles distributed development; and supports developers across a large number of platforms. Perforce ensures development integrity by grouping multi-file updates into atomic changes, enables concurrent development, and intelligently manages multiple software releases using its Inter-File Branching system.
About Perforce Software
Founded in 1995, Perforce Software Inc. develops, markets and supports Perforce, the Fast Software Configuration Management System. Perforce Software is headquartered in Alameda, Calif., and sells worldwide. The company has international operations in Europe, Japan and Australia. In addition to application software companies, Perforce customers represent a broad range of industries including game development, electronics, pharmaceutical and financial services.
Media Contact
Sheri Aguirre
Perforce Software
+1-503-673-0213
sheri(at)perforce(dot)com
###