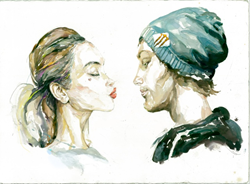 Corona, Calif (PRWEB) February 09, 2015
Your secret admirer Java Monster is spreading the love again this Valentine's Day with a sexy limited edition run, signed and numbered mixed media print designed by Los Angeles based graffiti fine artist, Samir Arghandiwall, better known as EVOL who took his underground style and mixed it with a touch of romance, creating the perfect juxtaposition.
Since flowers die and chocolates melt Java Monster wanted to give you a token of love that would last. For the collaboration, the Middle Eastern artist, who spent his early years in France and now calls Los Angeles home, painted his identifiable intimate design by using mixed media on illustration board 400 pound press with water colors, gouache, acrylic and ink and then digitally transferred it onto 100 pieces of wood printed by Prints on Wood. Never departing from his roots, EVOL merges raw feminine touches of fine art portraying expressive renderings of idealized women in lush watercolors with his unique street influence to create this exclusive piece featuring a beautiful couple kissing for Java Monster.
After moving to the US in the late 80s, EVOL was introduced to graffiti/aerosol art. From a young age EVOL was painting murals throughout Los Angeles with some of the most respected artists in the states. His natural fascination with different art styles and techniques lead him to exploring much more than graffiti lettering and so it began where a beautiful collision of mixing fine art and graffiti would evolve. Schooled in animation and trained with American painter and graphic novel artist Kent Williams, EVOL is recognized as a well-known, multi faceted artist, exhibiting rare and individual skill sets as an animator, illustrator, character designer, muralist and painter.
To add to his street cred, EVOL was inducted into the most infamous graffiti art collective in the world, The Seventh Letter, and also ran with the crew of the New York based art collective FLY ID.
Java Monster is proud to present this celebration of LOVE inspired by EVOL. Incorporating his one-of-a-kind, museum-quality fine art pieces on a variety of mediums to include murals as his canvas throughout the world, EVOL's unique art is mesmerizing on all fronts and can be seen from coast to coast on walls, collaborations with influential fashion and lifestyle brands, and in the underground art scene.
He is legit, educated with a BFA in Character Animation | Film and Video from the California Institute of the Arts, and his work is in high demand.
Java Monster is running a Facebook promotion where fans can have their own opportunity to receive this exclusive limited edition run signed and numbered Java Monster | Samir EVOL piece of art. 'Like' Java Monster's page for your chance to enter the contest and win a Samir EVOL token of 'LOVE': http://www.facebook.com/JavaMonster.
For more information on Prints on Wood visit http://www.printsonwood.com.
To see all of the extensions of EVOL in his many beautiful forms of art and walls of canvas check out his Instagram at Samir_Evol.
###
About Java Monster
Based in Corona, California, Java Monster is coffee done the Monster way. Java Monster's premium coffee and cream offers the perfect mix of ingredients. Brewed with killer flavor and supercharged with the Monster Energy blend, Java Monster gives you half the caffeine of regular coffee and twice the buzz. Java Monster line-up includes Mean Bean, Loca Moca, Kona Blend, Vanilla Light, Irish Blend and Cappuccino; all created to satisfy whatever mood suits your lifestyle. See more about Monster Energy including all of its drinks at http://www.monsterenergy.com.