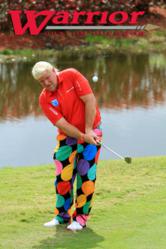 Our main goal is to set the youth in the River Valley Area on track to bright futures. We are grateful to all who are coming out to support this great event and a special thanks to Warrior Custom Golf for their help this year
(PRWEB) May 24, 2013
Warrior Custom Golf announces their support of the 22nd Annual John Daly Golf Classic benefiting the Boys & Girls Club of the Arkansas River Valley which will take place on consecutive days, Friday May 31st, Saturday June 1st and Sunday June 2nd held at the Lion's Den Golf Course in Dardanelle, Arkansas. John Daly will host the event in an effort to help raise funds to reach more children in the River Valley Area.
John Daly, a long-time resident of Arkansas and devoted father understands firsthand how desperately River Valley communities must address the needs of their youth. "Our main goal is to set the youth in the River Valley Area on track to bright futures. We are grateful to all who are coming out to support this great event and a special thanks to Warrior Custom Golf for their help this year," stated John Daly.
Sports & Entertainment with an Arkansas twist will be in attendance:
Mr.Lucky (An Awesome Band), Downday, Dayton Waters (Best 12 String Guitar Player Ever), The Buzz 103.7 (Radio Show w/No Name), Johnny Lee (Urban Cowboy/Still Looking for Love), Mark Bryan (Hootie & The Blowfish/Lead Guitar player), Sean Fister (3 Time World Long Driver Champion) and Home Town Hero John "The Lion" Daly.
Approximately 240 golfers will be at attendance to enjoy the weekend activities. Proceeds from the event will go to benefit the Boys & Girls Club's effort to enable young people to reach their full potential as productive, caring, responsible citizens.
About Boys & Girls Clubs of America
In every community, boys and girls are left to find their own recreation and companionship in the streets. An increasing number of children are at home with no adult care or supervision. Young people need to know that someone cares about them.
Boys & Girls Clubs offer that and more. Club programs and services promote and enhance the development of boys and girls by instilling a sense of competence, usefulness, belonging and influence.
Boys & Girls Clubs are a safe place to learn and grow – all while having fun. It is the place where great futures are started each and every day.
To learn more visit http://www.bgca.org
About Warrior Custom Golf
Warrior Custom Golf, Inc. was established for the singular purpose of developing, manufacturing and marketing custom golf clubs for golfers worldwide. They are dedicated to the continual development of state-of-the-art custom golf products and in building customer loyalty through exceptional customer service and support.
Warrior has brought together an impressive group of highly regarded product development and golf manufacturing professionals, many of whom have 20 or more years' experience including seasoned master club builders. Warrior produces many more club sets in a given week than some of the most popular brands with one distinct difference – every one of their clubs is custom built to the exact specifications of each customer.
As a result, Warrior has surpassed $200 million sales with over 750,000 satisfied customers and is one of the fastest growing golf companies in the nation. Warrior's corporate headquarters is located in Irvine, California where its 30,000 sq. ft. manufacturing facility employs over 200 individuals year-round.
For more information on Warrior Custom Golf, 15 Mason, Irvine, CA 92618, contact at 1(800) 574-9790 or visit their website http://www.warriorcustomgolf.com