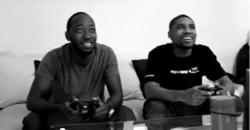 Collaborating with other artists is something very special and unique...
Los Angeles, CA (PRWEB) September 26, 2012
Jay Blaze, a Los Angeles based rapper, couldn't give his friend Lamorne Morris better advice than to get a new girl. Preferably a girl that isn't cheating on him, with Jay Blaze himself.
Fortunately, this drama went down in a music video and not real life. In real life the two are very close friends who wholeheartedly support each other's projects. Morris co-stars on the hit TV show "New Girl" with Zooey Deschanel, while Jay Blaze is a successful recording artist and CEO of Global Sound Music Group. The two stars recently collaborated on Blaze's single "No One Has to Know," a provocative music video that tells the story of a man unfaithful to his girlfriend and disloyal to his best friend. Like most of his music, Blaze draws inspiration from life experience, "When I was first recording the album, I had a bad feeling about my roommate's girlfriend. I warned him that she couldn't be trusted and sure enough the first chance she got she put the moves on me," remembers Blaze.
The song "No One Has to Know" is on Blaze's Universal Man EP, along with the title track, "Universal Man," featuring Ray J. "Collaborating with other artists is something very special and unique, two different forces get to crash into each other and take the music to the next level," states Blaze. As an artist, Blaze is always pushing himself to the next level, putting himself in a state of constant creative evolution.
While music is Blaze's passion he is also involved in other endeavors, including the production of his own T-shirt line. The shirt Blaze wears in the "No One Has to Know" video will be one of the first to go on sale. The "Can You Keep a Secret?" T-shirt will be available on jayblaze.com within the month, an item Blaze expects to be a fan favorite. "When I wear it out, I get a lot of attention because people get curious, it intrigues the mind you know. Sometimes in a dangerous way."
Dedicated fans have already uploaded YouTube videos depicting their take on the popular "No One Has to Know" single. Blaze loves when fans reach out and tell a story with his music, "Don't be shy, make a video and upload it. I would love to see it." Followers of Jay Blaze can also look forward to new videos and shows before the year is up, and in the meantime can pick up his Universal Man EP, out now on iTunes.
###
Celebrity News Powered by ITC.