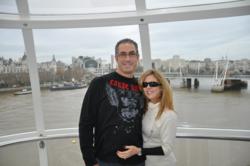 Up to 90 percent of trash goes into landfills, threatening our precious air, land and water sources, we must do better.
Boca Raton, FL (PRWEB) September 13, 2012
Jay Katari is a leading textile recycling entrepreneur from Boca Raton, Florida and owner of Thrift City, MegaThrift and other wholesale retailers. He recently pledged his company's support for America Recycles Day, a national recycling awareness program taking place on November 15, 2012.
Jay Katari's recycling empire includes several big box thrift stores throughout Florida, Texas an the Southeast and a green textile clothing recycling company with operations in 14 of the United States. "We have 22 trucks on the road seven days a week, 24 hours a day, servicing our more than 4,000 clothing recyclers. We have made it easy and convenient for Americans to recycle their unwanted clothing and household items. We are contracted by major retail property developers and third party property managers to place our clothing recyclers on property to allow people to easily drop off their unwanted clothing and household items," explains Jay Katari.
Jay Katari started South Florida Textile Recycling, Inc. in 1998, placing 24 collection bins in Palm Beach and Broward counties and in the past decade has opened dozens of wholesale clothing retailers that give a new life to gently used clothing and household goods by offering low prices to consumers and bargain shoppers and earning the respect and admiration of the Boca Raton community where he and his family call home.
Every year, communities across the United States throw away millions of tons of aluminum, plastics, clothing, paper and other valuable resources that can be efficiently recycled or reused, turned into new products or converted to energy. "Recycling makes sense," says Katari, "up to 90 percent of trash goes into landfills, threatening our precious air, land and water sources, we must do better."
America Recycles Day, recognized annually on November 15, celebrates the successes of recycling while providing an educational platform that helps raise awareness about the importance of reducing, reusing and recycling – every day – all year long. America Recycles Day is a program sponsored by Keep America Beautiful and the only nationally recognized day dedicated to promoting and celebrating recycling in the United States.
"Thrift City and our affiliated stores are dedicated to the communities we serve and we are honored to be able to support America Recycles Day to educate and motivate people about the importance of recycling to our economy and for our environmental well-being," says Jay Katari.