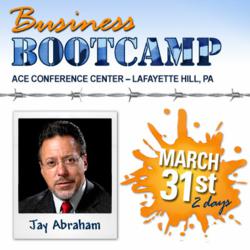 This is an extraordinary opportunity and we're thrilled to provide this to the Martial Arts business community.
Hatboro, PA (PRWEB) February 28, 2012
Member Solutions, a leading provider of full-service membership billing and web-based business applications, today announced that Jay Abraham, one of the greatest business-building legends of all time, will be the keynote speaker at their 2012 Martial Arts Business Bootcamp.
"We're going to sell out." said Joe Galea, President of Member Solutions. "It's exciting when our all-star lineup of speakers can't wait to hear Jay Abraham deliver his keynote speech. This is an extraordinary opportunity and we're thrilled to provide this to the Martial Arts business community."
Over the last 25 years, Jay Abraham has significantly increased the business income, wealth and success of over 10,000 clients in more than 400 industries worldwide, including the Martial Arts. Some of the companies that have profited from Jay's marketing brilliance include AT&T, Baskin Robbins, HBO, IBM, Microsoft, New York Life, Taco Bell Restaurants and Weight Watchers.
Jay has also won high praise as a marketing genius in USA Today, the New York Times, the Los Angeles Times, Washington Post, San Francisco Chronicle, OTC Stock Journal, National Underwriter, Entrepreneur, Success Inc. and many other publications.
In his 90-minute Bootcamp keynote address, Jay Abraham will introduce a broad range of hard-hitting business strategies and marketing methods, many of the proven Abraham concepts that have made him America's number one marketing guru. Jay will also share specific proven tools to enable Martial Arts business owners and their management teams to enroll and retain more students, and increase profitability for their schools.
ABOUT MEMBER SOLUTIONS MARTIAL ARTS BUSINESS BOOTCAMP
Member Solutions Annual Martial Arts Business Bootcamp is known for attracting renowned Martial Arts industry professionals. This year's event takes place on March 31st and April 1st at the ACE Conference Center in Lafayette Hill, Pennsylvania.
Bootcamp 2012 will feature three seminar tracks with conference presentations covering more than 17 business topics, including member retention, business systems, Internet marketing, time management, and membership selling. The event will provide early-morning workout sessions, an extensive exhibitor area, and a personalized Member Solutions Software Training Lab. Award-winning cuisine will be provided by Wolfgang Puck Catering during Saturday's attendee luncheon.
The full conference agenda is available on the Member Solutions Business Bootcamp website at http://www.MemberSolutions.com/Bootcamp2012.
ABOUT MEMBER SOLUTIONS
Member Solutions, a division of Jonas Software, has built its business on an unwavering commitment to serving clients in the Martial Arts and other fitness categories. The company operates a proprietary payment processing platform and is the leading provider of billing, servicing, and business support to more than 2,200 membership businesses in the United States, Canada, and Australia. The company also offers web-based applications for front-desk member management and online event registration that are fully integrated with its PCI-compliant payment processing platform.
For more information, contact:
Steven Pinado
267-287-1070
###