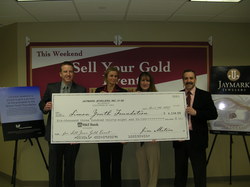 We are thrilled about this opportunity to help raise funds for the Simon Youth Foundation
Cold Spring, NY (Vocus) April 13, 2009
Jim and Melanie Matero, owners of Jaymark Jewelers, presented a donation check of $6,338.55 to the Simon Youth Foundation (SYF) at the Jefferson Valley Mall in Yorktown Heights, NY on Friday, April 9. SYF is a non-profit founded by Simon Property Group, owners of the Mall.
Jefferson Valley Mall officials Patrick Moyers and Lauren Penchina were present on behalf of SYF to accept the check from Jaymark. The contribution was the result of the two-weekend Sell Your Gold Events presented by Jaymark in the Jefferson Valley Mall March 28 & 29 and April 4 & 5. Jaymark Jewelers and Simon Property Group are presenting a series of Sell Your Gold events at malls nationwide.
The mission of SYF is to foster and improve educational opportunities, career development, and life skills that transform the lives of at-risk youth through focused programs and initiatives with public school and post-secondary education partners.
"We are thrilled about this opportunity to help raise funds for the Simon Youth Foundation," enthused Melanie Matero, Jaymark's Director of Community Responsibility. "Holding these events nationwide will enable us to help many children who otherwise may not have the chance to obtain the education they deserve."
For consumers who bring their old, broken, or unwanted jewelry and other precious metals to a Jaymark event, licensed gold buyers will calculate its recycle value and pay out cash to those who accept the offers. After each event, Jaymark will provide a donation to a non-profit organization.
About Jaymark Jewelers
Jaymark Jewelers has been in the jewelry business since 1950 and has been owned and operated by the same family for four generations. In supplying residents of the Hudson River Valley with fine jewelry to suit every need, Jaymark specializes in custom design, expertise, craftsmanship, and a passion for service. Today, owners Melanie and Jim Matero continue to uphold that tradition by offering customers the highest value possible.
Jaymark is dedicated to the betterment of the communities it serves. Plus, the firm is committed to the principles of fair trade, and purchases gemstones only from countries and companies that adhere to the strictest humanitarian and environmental protocols. Over 90 percent of Jaymark's inventory is manufactured in the United States, much of it in Jaymark's own facilities.
Jaymark Jewelers has two New York showrooms -- Cold Spring: 3612 Route 9 (zip: 10516); and Katonah: 284 Katonah Avenue, Katonah Shopping Center (zip; 10536). For more information on Jaymark or to place a custom order, call 845-265-9246, visit a showroom, or log on to http://www.JaymarkJewelers.com.
About Jefferson Valley Mall
Jefferson Valley Mall is located on Route 6, 1/4 mile east of the Taconic State Parkway in Yorktown Heights, NY and is owned and managed by Simon Property Group, Inc., headquartered in Indianapolis, Indiana. Visit http://www.simon.com for more information, or call the mall management office at (914) 245-4688.
###