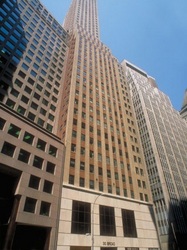 30 Broad Street will open up limitless opportunities to companies who desire a base in the heart of the financial district
New York, NY (PRWEB) September 7, 2010
In a move symbolic of the rebounding New York real estate market, Jay Suites has secured its fourth New York City location at 30 Broad Street in the Financial District, company President Juda Srour announced. The company is now scouting out sites in Chelsea and the Plaza District for more locations.
Jay Suites — a serviced office suite provider which rents out fully furnished office spaces to both corporate clients and small businesses — signed a 13-year lease last Tuesday with Gotham Holdings for the entire 14th floor of the 50-story limestone building at the corner of Broad Street and Exchange Place, which is adjacent to the New York Stock Exchange. The classic art-deco tower is at the crossroads of the world's banking, insurance, and financial industries.
The 16,000-square-foot space will be fully renovated and ready for lease by December 1, Srour said. Rents will range from $800 a month to $4,000 for office spaces of 100 square feet to 2,500 square feet.
Jay Suites is a three-year-old venture run by brothers Juda and Jack Srour, the company's CEO. "The space is ideal for both start-ups and corporate clients that need the prime Manhattan address, and a flexible office plan," Srour said. He added, "30 Broad Street will open up limitless opportunities to companies who desire a base in the heart of the financial district."
The company recently signed a 10-year lease for 16,796 square feet at 1370 Broadway, a deal which was finalized in mid-July. Though the space — the fifth floor of the 17-story building, between 36th and 37th streets — won't be open until Nov. 1, several suites have been snapped up already. "People have expressed interest and we have pre-sold ten suites on Broadway," Juda said. "We are very excited to open these new centers and to have such great locations steps away from all the main subway lines."
Jay Suites' other two offices, which are up and running, are at 369 Lexington Avenue between 40th and 41st streets near Grand Central, and at 2 West 46th Street at Fifth Avenue in the Rockefeller District. The business centers are fully furnished with secured Internet and phone access, as well a staffed reception area, conference rooms, copiers and a daily cleaning staff.
One current client at the Grand Central location is Regency Insurance, Juda said, along with several law firms, real estate brokerages and other entrepreneurs, such as online fashion magazine Beauty Blitz.
Users are invited to post comments and ideas on the company's blog.
###