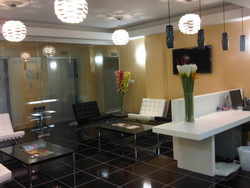 To be able to provide our clients with the caliber of technology they are accustomed to in an ecologically-conscious manner is an outstanding achievement for us
New York, NY (PRWEB) November 11, 2010
Jay Suites' corporate expansion from two business centers to the four locations that will be operational by early 2011 has led to enhanced efforts to reduce the company's environmental impact on the surrounding communities.
In an effort to reduce the carbon footprints of the existing Grand Central, Fifth Avenue, and Penn Station locations, (and the Broad Street location, currently slated to debut in February 2011), Jay Suites has made sweeping changes to "green up" their business model.
"Part of being a progressive company and listening to our clients' needs is anticipating how our expansion can occur in a more socially-responsible manner," Jay Suites' COO Jack Srour explains. "As a company, we are extremely conscious of the additional responsibilities associated with expanding our operation to new sites and neighborhoods."
Srour further noted how not all environmentally-conscious changes have to break the bank: "Our decision to use only energy-efficient florescent bulbs and compact florescent tubes in our lighting fixtures has actually lowered our bottom line, since we have to replace these bulbs less frequently than the standard ones."
All of Jay Suites' locations feature Energy-Star appliances in the kitchen areas, as well as Energy-Star certified Konica-Minolta all-in-one printer/scanner/copier/fax units. The involvement of Jay Suites' management in the design & build-out of their locations is highlighted by the installation of zoned electrical HVAC systems and zoned lighting for optimum conservation. Additionally, LEED-certified zero VOC (volatile organic compound) paints have been used in all of Jay Suites' interiors, reducing the negative environmental and biological side-effects linked to prolonged exposure.
"To be able to provide our clients with the caliber of technology they are accustomed to in an ecologically-conscious manner is an outstanding achievement for us," General Manager Caitie Bucci enthused. Srour further explained that the company is in the middle of LEED-certifying their interior commercial spaces, a lengthy but necessary process in providing outstanding services to even the most discriminating of clients. Jay Suites' is also energetically pursuing the implementation of more responsible daily practices, such as a company-wide recycling initiative.
"The importance of going green cannot be understated for Jay Suites, our tenants, and the communities around us. It is not only about being a competitor in the office-space market, but becoming a pioneer in the caliber of service we provide to our clients," Srour concluded. "This is not just about getting the needed certifications, but also changing our behavior to constantly reflect our commitment to 'going green' as a company."
Interested in getting involved? Post your tips for becoming more environmentally-conscious, and don't forget to check back often for updates on the LEED-certification process and Jay Suites' moves towards being green!
About Jay Suites
Jay Suites is a modern full-service business center providing fully-furnished, luxurious office space to its clients. Jay Suites' centers offer first-class business services including a receptionist, conference rooms and flexible lease terms. Our business centers are inspired by a unique blend of beauty and innovation that sets us apart from our competitors. From Italian-leather chairs to executive lobbies, the unprecedented attention to every design detail serves to establish an exclusive image for any business. To further spur business productivity, all office suites are equipped with the latest technological advances, including VoIP phones and secure high-speed Internet. We offer our clients the modern, 21st century office space they've always wanted in an all-inclusive pricing plan. Situated in the heart of the big apple, our executive suites offer exceptional identities to any business.
###