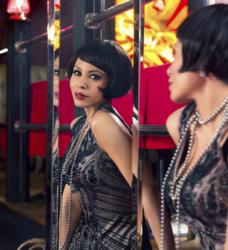 "Now and then you witness a debut so happy and so rich with potential that you can't wait to share the news."
-The New York Times
New York, New York (PRWEB) May 08, 2013
On Site Opera and Harlem Opera Theater invite you to take a trip back to the roaring '20s as they present Gershwin's Blue Monday at the historic Cotton Club (656 W 125th St.) Performances are Tuesday, June 18 and Wednesday, June 19, 2013 at 7pm with an hour of cocktails and dancing before the curtain at 8pm. The production marks a dynamic collaboration between On Site Opera and Harlem Opera Theater. The artistic directors of both companies (Eric Einhorn, On Site Opera and Gregory Hopkins, Harlem Opera Theater) will be at the helm of "Blue Monday", bringing their unique visions to this unforgettable event. Joining Einhorn and Hopkins on the production team are Tony Award-winning choreographer George Faison, costume designer Candida K. Nichols, members of The Harlem Chamber Players and The Cotton Club All Stars.
Thirteen years before George Gershwin wrote his landmark opera "Porgy and Bess", he wrote a one-act opera that fused Italian opera with a truly American style. The result was "Blue Monday". This 30 minute jazz opera gem is set in a 1920's Harlem jazz club where a lover's spat turns murderous to the music of Gershwin that audiences adore.
With "Blue Monday" at The Cotton Club, On Site Opera continues its mission of presenting site-specific opera outside the walls of a traditional opera house. When audiences step into The Cotton Club, they will be transported back in time to the musical height of the Harlem Renaissance. The Cotton Club All Stars (lead by Alvin Pazant) will play popular jazz and swing standards to celebrate Harlem's heyday. String players from The Harlem Chamber Players will then join the band to perform Gershwin's lush score.
The talented African-American cast stars soprano Alyson Cambridge as Vi, an object of many men's affections. Cambridge recently debuted the role of Julie in "Show Boat" at Chicago Lyric Opera, where critics noted that her "sensual, smoky readings were revelatory" (Opera News). Young American tenor Chase Taylor, a recent Metropolitan Opera National Council regional finalist, plays Joe, Vi's gambling boyfriend.
Baritone Lawrence Craig reprises the role of Tom, the club headliner, which he recorded in 1998 with Erich Kunzel and the Cincinnati Pops. Versatile bass Alvin Crawford (last seen on Broadway in "The Lion King") and bass-baritone Clayton Mathews round out the cast as club employees Sam and Mike, respectively.
About On Site Opera:
In their inaugural season last year, On Site Opera (the brainchild of celebrated director Eric Einhorn) presented Shostakovich's "The Tale of the Silly Baby Mouse" amongst the animals of the Bronx Zoo, and received rave reviews from the New York Times, who exclaimed, "Now and then you witness a debut so happy and so rich with potential that you can't wait to share the news." On Site Opera is a new opera company built around the idea that exciting performances can happen outside the walls of a traditional theater. Through immersive, site-specific productions, performers and audiences will experience great music and drama as never before in some of New York's most exciting spaces.
In addition to site-specific productions, On Site Opera's mission is to forge community partnerships in order to bring opera to new and underserved audiences, as well as to foster the development of emerging talent through performance and production opportunities.
http://www.osopera.org | http://www.facebook.com/OnSiteOpera | https://twitter.com/onsiteopera
About Harlem Opera Theater:
Under Artistic Director Gregory Hopkins, internationally acclaimed tenor, conductor, organist and pianist, the Harlem Opera Theater's performances include all types of musical offerings: opera, oratory concerts, recitals, Negro Spirituals and varied forms of American music. Harlem Opera Theater's mission is to provide performance opportunities for gifted professional and developing singers, as well as other musicians of exceptional potential for an operatic career in the local, national and international forums; offer operatic performance, education and develop audiences for the art form in underserved communities; present a competitive venue for the encouragement and promotion of exceptional talent within that same community; and to give a particular, though not exclusive emphasis on music about the African-American experience.
Founded in 2001, Harlem Opera Theater has presented over 90 artists to an audience of 11,000 patrons. The repertoire includes the"Opera for Beginners" literacy project for young scholars in New York City public schools and after school programs, collaborations with other organizations and an international tour of the Harlem Opera Theater Vocal Competition winners to several countries in South America.
http://www.harlemoperatheater.org
About The Harlem Chamber Players:
The Harlem Chamber Players is a multi-ethnic collective of professional musicians dedicated to bringing affordable and accessible live classical music to people in the Harlem community and beyond. The Harlem Chamber Players not only bring live chamber music to underserved neighborhoods in the Harlem community, but also create opportunities for classically trained minority musicians.
The Harlem Chamber Players was founded in 2008 by clarinetist Liz Player and violist Charles Dalton, who met while performing at a Black History Month gala concert at Weill Recital Hall at Carnegie Hall and was encouraged by Janet Wolfe, founder of the New York City Housing Symphony Orchestra and long-time patron of minority classical musicians. The Harlem Chamber Players have since been bringing live chamber music to Harlem and beyond through its acclaimed "Music at St. Mary's" series at the historic St. Mary's Church of Manhattanville and various free outdoor and other community outreach concerts.
http://www.harlemchamberplayers.org | http://www.facebook.com/TheHarlemChamberPlayers
Artist Biographies
Alyson Cambridge, soprano
American soprano Alyson Cambridge has been hailed by critics as "radiant, vocally assured, dramatically and compelling, and artistically imaginative" (Washington Post) and noted for her "powerful, clear voice." (New York Times) Her rich, warm soprano, combined with her strikingly beautiful stage presence and her affecting musical and dramatic interpretation, have brought her over a decade of success on the leading opera stages through out the United States with The Metropolitan Opera, Lyric Opera of Chicago and Washington National Opera among them, as well as recent debuts in Paris, Berlin, Vienna, and Beijing. Her repertoire includes the roles of Mimi, Violetta, Liu, Thaïs, Marguerite, Donna Elvira, Contessa, and Carmen, among others, as well as recent successful forays into the crossover Broadway and jazz repertoire.
Upcoming and recent engagements include a return to Washington National Opera, as Julie in "Show Boat", a debut as the featured artist with the Mormon Tabernacle Choir and debuts at Royal Albert Hall in London and Florentine Opera, as Mimi in "La bohème". She also performs concerts and recitals in New York, Chicago, Washington, D.C., headlines a multi-city concert tour of China, and performs on multiple charity galas. She will also begin work on her second CD, a compilation of jazz and crossover favorites from The Great American Songbook. Alyson Cambridge is a graduate of the Metropolitan Opera's Lindemann Young Artist Development Program. Ms. Cambridge was also awarded First Prize in the 2003 Licia Albanese-Puccini Foundation International Voice Competition, was a 2004 George London Foundation Award recipient, and received the Régine Crespin Award at the 2008 Elardo International Opera Competition.
http://www.alysoncambridge.com | https://twitter.com/alysoncambridge | http://www.facebook.com/alysoncambridgesoprano | http://www.youtube.com/user/musiclover100869
Lawrence Craig, baritone
Internationally acclaimed baritone Lawrence Craig is known for his "virtuosic talent" in opera, concert and recital. Most notably, he has appeared as Escamillo in "Carmen", Guglielmo in "Cosi fan tutte", Ford in "Falstaff" and Papageno in "Die Zauberflöte". Recent appearances include Henry Davis in "Street Scene" with L'Opéra de Toulon, Sportin' Life in "Porgy and Bess" with the Virginia Opera and the Buck Hill-Skytop Music Festival, the American premiere of Kurt Weill's "Die Bürgschaft" with the Spoleto Festival USA (recorded for EMI Classics), Handel's "Messiah" with the Rochester Philharmonic, Mozart's "Missa solemnis" at Lincoln Center, Ray's "Gospel Mass" at Carnegie Hall, opera and jazz concerts for the Mozambique International Music Festival, Music Sharing from New York in Japan and he marked his Broadway debut in Baz Luhrmann's "La Bohème On Broadway". Performing in the NYC concert to honor President Barack Obama's receipt of the Nobel Peace Prize was a season highlight. A veteran of jazz, classical, Broadway and modern music performances, his most unusual role was as both stage director and the character Sportin' Life in the Albanian National Opera's recent triumphant production of "Porgy and Bess".
http://www.lawrencecraig.com
Alvin Crawford, bass baritone
Bass Alvin Crawford has performed Sarastro in "The Magic Flute" (Volksoper Wien), Der Lautschprecher in "Der Kaiser Von Atlantis" (La Philharmonic, Spoleto Festival Italy and New World Symphony), Pistola in "Falstaff" and Sourin in "The Queen of Spades" (Canadian Opera Company), Il Grande Inquisitor in "Don Carlos", and Alvise in "La Gioconda" (Staatstheater Kassel), The Ghost in "Hamlet" and Dr. Grenvile in "La Traviata" (Opera Theatre of St. Louis.) Recent Broadway engagements include Mufasa in "The Lion King", Lion in "Candide", John in "Miss Saigon" and Sam Cooke in "The Buddy Holly Story". Mr. Crawford's television and film credits include "It Runs in the Family" (MGM), "Clarence" (CBC), PBS Great Performances of "South Pacific" at Carnegie Hall, and "Pray for me Paul Henderson" (CBC). Mr. Crawford is a Graduate of The Juilliard School.
Eric Einhorn, stage director
Award-winning stage director Eric Einhorn has been praised by The Austin Chronicle as "a rising star in the opera world" and by Opera News for his "keen eye for detail and character insight." Mr. Einhorn has directed productions for Chicago Lyric Opera, Glimmerglass Opera, Pittsburgh Opera, Ft. Worth Opera, Wolf Trap Opera, Florentine Opera, Austin Lyric Opera, Utah Opera, and Gotham Chamber Opera. He has been a member of the stage directing staff at the Metropolitan Opera since 2005. He is the founder On Site Opera, and in 2011 conceived and directed Shostakovich's "The Tale of the Silly Baby Mouse" at the Bronx Zoo.
The Pittsburgh Post-Gazette named Mr. Einhorn's production of "Dialogues des Carmélites" for Pittsburgh Opera one of the top ten classical music performances of 2011. He originally created the production for Austin Lyric Opera in 2009 and was awarded "Best Opera" at the Austin Critics' Table Awards in addition to garnering him a nomination for "Best Director." Upcoming productions include a new multi-media staging of "Tosca" with the Pacific Symphony and a new production with the Florentine Opera in Milwaukee. http://www.ericeinhorn.com
George Faison, choreographer
As producer, writer, essayist, composer, director, choreographer, dancer and actor, George Faison's multifaceted career is replete with awards and acclaim. He was a former principal dancer with the Alvin Ailey American Dance Theater. He went on to form his own dance company, The Universal Dance Experience, where he choreographed "Slaves", "Tilt" and "Suite Otis". In 1972, Faison made his choreographic debut on Broadway with the musical "Don't Bother Me, I Can't Cope". In 1975, he became the first African American to win a Tony Award for choreography for "The Wiz", the successful all-black musical retelling of "The Wizard of Oz". George Faison has choreographed and directed more than thirty plays and musicals, including the Broadway musicals "Via Galactica", "1600 Pennsylvania Avenue" and a Tony Award-nominated Radio City Music Hall production of "Porgy and Bess". He has choreographed and staged concerts for leading artists such as Earth, Wind and Fire; Roberta Flack; Aretha Franklin; Gladys Knight and the Pips; Stevie Wonder; Dionne Warwick and Ashford and Simpson. In 2000, George and co-founder Tad Schnugg opened the Faison Firehouse Theater in Harlem hailed by the media as "Hollywood in Harlem, bringing culture and art to the community." Since its opening, Dr. Faison has launched the Firehouse Respect Project, a mentoring program which continues to reach the underserved youth in the tri state area and especially those in Harlem while also presenting professional performing arts projects at his state of the art theater. http://faisonfirehouse.org
Gregory Hopkins, conductor
Gregory Hopkins, celebrated tenor and Artistic Director of Harlem Opera Theater, is a native of Philadelphia and holds degrees from Temple University and the Curtis Institute of Music. He is the winner of top prizes in the Busseto Verdi competition and the Mantova International Vocal Competition, both in Italy. As a singer, pianist, organist, Choral conductor, teacher and clinician, Dr. Hopkins has traveled throughout the Americas, Europe, Asia and The Middle East with recent performances including The Cervantes Festival (Mexico), Orvieto Festival (Italy) and Umbria Festival (Italy). As an educator, he has served on the faculties of Community College of Philadelphia, Morgan State University, Westminster Choir College and NY Seminary of the East. Currently, he is Assistant Professor of Voice at Howard University. For nearly a quarter of a century Dr. Hopkins has been Minister of Music for Harlem's Convent Avenue Baptist Church. He is also Music Director for the Harlem Jubilee Singers and Cocolo Japanese Gospel Choir. Dr. Hopkins' recording credits include Gershwin's "Blue Monday", Kurt Weill's "Lost in the Stars" and a recording of spirituals entitled "Amazing Grace," which he also conducted.
Clayton Mathews, bass-baritone
"Bass Baritone, Clayton Mathews as Don Alfonso was great. His low, rich tone left nothing to be desired and I was very happy every time he sang." (Stage Magazine) "Bass-baritone Mathews' diction and bright, forward tone ensured that pitch and text were never lost in the texture, delivering with a charming smile." (South Florida Classical Review)
Bass-Baritone Clayton Mathews, a native of St. Louis, has been praised for his rich colorful tone and animated interpretations. He has performed professionally in opera companies such as Miami Lyric Opera, Riuniti Opera, Sunday Opera and the Opera Project of Lambertville, NJ. Mr. Mathews' most distinguished roles include Amonasro from "Aida", Don Alfonso from "Cosi fan tutte", and Giorgio from "I Puritani". He has also performed the musical theatre roles of Javert from "Les Miserables" and Agwe from "Once on this Island". He holds a B.M. in Voice Performance from Barry University.
Candida K. Nichols, costume designer
Candida K. Nichols is a costume designer and photographer based in New York City. Costume design credits include work for the Lincoln Center Theater/Institute, The New Jersey Shakespeare Festival, the National Asian American Theatre Company, Gotham Chamber Opera, the Perseverance Theater, the Nerve Tank, Williams College and Dance Cores among others. Her design work has also been seen in many independent short films. In 2002 she was the associate designer for "Light of the World", a cultural event held during the Salt Lake City Winter Olympics. Candida is a resident artist with Theater Mitu, which produces work in the Unites States and the United Arab Emirates. Theater Mitu's work focuses on research and training of world performance traditions. Candida is the recipient of the Richard L. Hay Design Fellowship at the Oregon Shakespeare Festival and the Roy Crane Award for Outstanding Creative Achievement in the Performing Arts.
http://www.candidaknichols.com.
Chase Taylor, tenor
American tenor Chase Taylor is known for his stage presence, artistic sensitivity, and stentorian high notes. He received his Bachelor of Arts from the University of North Carolina School for the Arts, with postgraduate studies at the University of Cincinnati College-Conservatory of Music, and Mannes College. Recent appearances include the Messenger (cover) in "Aida", the Leader (cover) in Weill's "Lost in the Stars", and various concerts with the Glimmerglass Festival in the summer of 2012; Oliver Hix in "The Music Man" at the Royal Opera House Muscat with the Glimmerglass Festival; performing at the 27th Annual International Prayer Breakfast for the Christian Embassy at the UN; "Show Boat" with the Lyric Opera of Chicago; Bacchus in "Ariadne auf Naxos" at the Jaffa Music Center/IVAI under Maestro Paul Nadler in Tel Aviv, Israel; and Master classes with Marcello Giordani, Dolora Zajick, Warren Jones, and Virginia Zeani. Upcoming appearances include Joe in "Blue Monday" with On Site Opera/Harlem Opera Theater, and Gladiator in "Eliogabalo" with Gotham Chamber Opera. He was a Regional Finalist in the 2012 Metropolitan Opera National Council Auditions New England District.
Tuesday, June 18 & Wednesday, June 19, 2013
7pm: Cocktails & Dancing | 8pm: Blue Monday
The Cotton Club | 656 W 125th St | New York, NY
Tickets: $20 (cocktails not included) at http://onsitebluemonday.eventbrite.com
for more information: http://www.osopera.org or 917.243.8340
Conducted by Gregory Hopkins
Directed by Eric Einhorn
Choreographed by George Faison
Featuring Alyson Cambridge, Chase Taylor, Lawrence Craig, Clayton Mathews and Alvin Crawford with The Harlem Chamber Players and The Cotton Club All Stars