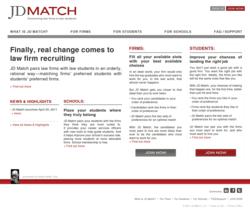 JD Match is committed to being nimble to respond to dynamic market conditions and implement substantial enhancements with great speed," said Bruce MacEwen.
New York, NY (PRWEB) July 07, 2011
JD Match, the first-ever online recruiting service designed to address the dysfunctional law student hiring process, introduced today a two-tiered pricing model, including a free Introductory Membership level.
The move, in response to the dismal hiring outlook in the legal sector, comes in time for fall on-campus interviewing at the nation's law schools. It replaces the previous $99 law student membership fee.Those who already registered with JD Match will have their membership fees refunded. Subsequently, a Premium Membership tier will be offered.
"As the pioneer in addressing what is universally viewed as a flawed recruiting model, JD Match has a duty to the legal community to remain in front and provide flexibility in our array of services," said Bruce MacEwen, President of JD Match. "We are absolutely committed to being nimble enough to respond to dynamic market conditions and implement enhancements, even substantial ones, with great speed."
During the fall 2011 recruiting season, JD Match will run its matching algorithm multiple times offering more opportunities for matches between students and firms. The proprietary software can pair all law student members with law firm members based on the preferences of each. Together, these features help ensure more mutually beneficial pairings between firms and students. JD Match streamlines introductions between the two parties; job offers are not made via JD Match. Importantly, as JD Match is a more rational overlay to all current practices, nothing in JD Match is mandatory.
When law students register with JD Match, they can select a free Introductory Membership or a Premium Membership for $49 annually. The Introductory Membership includes their results from all runs of the algorithm. The Premium Membership, currently under development, will include enhanced features.
Since JD Match launched, five law firms have registered with the online recruiting service including WilmerHale; Wilson Sonsini Goodrich & Rosati; K&L Gates; Skadden Arps; and, McKenna Long. Others will be announced shortly.
About JD Match
JD Match is an online recruiting membership service founded in April 2011 to address the flawed system for recruiting law students into law firms. It is open to all U.S. law schools, law students and firms seeking to hire from law schools. Please visit JDMatch.com or our blog, JD Match Views; follow us on Facebook, LinkedIn, or Twitter @JDMatch.
###