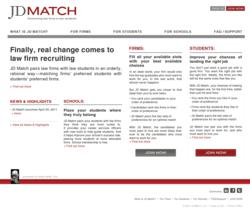 The potential for this product is great, and we wanted to get in on the ground floor so we can assist in maximizing it, said Carol Sprague of Skadden.
New York, NY (PRWEB) June 03, 2011
JD Match, the first-ever online recruiting service designed to address the flawed law student hiring process, announced today the addition of Skadden, Arps, Slate, Meagher & Flom and McKenna Long & Aldridge to its growing list of charter members.
JD Match is seeking more firms with available associate positions to join its recruiting service. Firms that join are presented with a list of potential candidates from among law student members based on the JD Match algorithm's determination of mutual interest.
"JD Match gives us another tool to assist with making the most informed hiring decisions as possible. We simply thought that in this day and age both students and firms would find this an effective way to share information," said Carol Sprague, Director of Associate/Alumni Relations and Attorney Recruiting at Skadden. "The potential for this product is great and we wanted to get in on the ground floor so we can assist in maximizing it."
During the fall 2011 on-campus recruiting season, JD Match will run its matching algorithm several times. The software will pair 2L and 3L law students with law firm members based on the preferences of each. In addition to the algorithm, JD Match provides several other services enabling firms and students to discover and connect with each other in ways not currently available. For example, firms can find students at law schools they don't visit or have not met during on-campus interviewing.
"Finding a broader array of qualified candidates who we may not have access to through on-campus interviews and resume drops is appealing," said Jennifer Queen, Chief Recruiting and Development Officer at McKenna Long & Aldridge. "We appreciate JD Match for offering us an efficient, real time, on-line resource to use in our selection and hiring process."
JD Match operates as an overlay to traditional recruiting practices and complements (does not replace) traditional on-campus interviewing. Job offers are not made via JD Match. Annually, the top 250 law firms ranked by the National Law Journal fill an estimated 9,500 associate positions from U.S. law schools.
"Having Charter Members of the caliber of Skadden and McKenna Long is a strong indicator of JD Match's value to different types of firms," said Bruce MacEwen, President of JD Match. "Further, as Carol Sprague and Jennifer Queen are recognized as thought leaders in the legal community we are especially gratified to have them on board so soon."
About JD Match
JD Match is an online recruiting membership service founded in April 2011 to address the flawed system for recruiting law students into law firms. It is open to all U.S. law schools, law students and firms seeking to hire from law schools. Please visit JDMatch.com; follow us on Facebook, or Twitter @JDMatch.
###