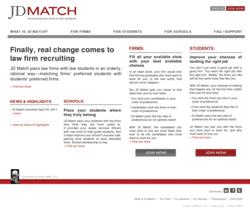 "JD Match is the first significant change to legal recruiting practices in a very long time. We're free to all law students in U.S. law schools," said Janet Stanton.
New York, NY (PRWEB) July 17, 2011
JD Match (JDMatch.com) is the first-ever online recruiting service designed to address the flawed law student hiring process. Free to all law students from U.S. law schools, JD Match is designed to pair law students with their preferred firms and law firms with their preferred students. The JD Match algorithm will run frequently during fall 2011 in parallel with on-campus interviewing on law school campuses this fall.
To prepare 2L and 3L law students for this process, the following tips are offered by Janet Stanton, CEO of JD Match:

Engage with your law school's career services group. This is the group whose sole responsibility it is to help launch the legal careers of as many students as possible. There seem to be varying opinions among students about the effectiveness of career services from school to school. That said, don't take other students' opinions at face value.
Get the inside scoop on law firms from career services. They're fonts of information and very up-to-date on what's really happening at various firms that may likely not be on firms' website or referenced in available sources, such as the NALP directory.
Take advantage of all the services they offer. Career services people are pros; they know what works and, as important, what doesn't. They've been doing this for a long time so seek their advice on the appropriate strategies based on your priorities (and they can also help you refine your priorities). Further, if they offer resume or interviewing guidance; listen to what they have to say. Why wouldn't you?
Network with alumni of your law school. Career services can also help direct you to alums currently employed by firms you may be interested in or others at school who previously summered at a those firms.
Enlist their help early on. Many students underestimate the amount of time it takes to prepare for OCI. Give your career services group enough time to give you the help you need.
Be nice to your career services group. There are a lot of students competing for their not infinite time. Stay on their good side; respect their expertise and you'll likely get more than your fair share of their help.
The new online solution uses a proprietary matching algorithm and other features to pair firms' preferred students with students' preferred firms and increase the chance for longer-lasting relationships between the two parties. All of JD Match services are available to second- and-third-year law students; job offers are not made via JD Match.
JD Match operates as an overlay to traditional recruiting practices and helps streamline introductions between firms and students. JD Match complements (and does not replace) traditional on-campus interviewing during which the top 250 law firms ranked by the National Law Journal fill an estimated 9,500 associate positions annually from U.S. law schools.
About JD Match
JD Match is an online recruiting membership service founded in April 2011 to address the flawed system for recruiting law students into law firms. It is open to all U.S. law schools, law students and firms seeking to hire from law schools. Please visit JDMatch.com; follow us on Facebook, http://www.facebook.com/JDMatch or Twitter@JDMatch.
###