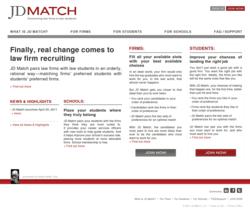 New York, NY (PRWEB) July 28, 2011
To prepare 2L and 3L law students for on-campus interviewing, the following tips by Janet Stanton, CEO of JD Match, are being offered in time for the fall 2011 on-campus recruiting season.
JD Match is the first-ever online recruiting service to help students find firms they like that are also interested in them, resulting in longer-lasting, mutually beneficial matches. The service is free to all U.S. law students.
JD Match On-Campus Interviewing Tips for Law Students

Engage with your law school's career services group and take advantage of all they offer. Everyone has differing views whether career services can help with future employment; however, these professionals put students first every day. Do seek their advice on appropriate strategies; do ask their input about your resume; and, listen to their tips to improve your interviewing prowess.
Seek targeted resources within the legal industry. Don't ignore the obvious areas to network professionally. You can develop high-level networks with lawyers on LexisNexis Connected, with the National Association of Legal Professionals, and via LinkedIn. For additional career counseling, Vault offers some of the best counsel around.
Create Google Alerts for law firms where you want to work. There's no better way to glean up-to-the minute information about a firm than with an alert notification. Keep these nuggets handy as they may sway your opinion of a particular firm and help you prepare for interviews.
Law firm websites are critical sources for broad background. Explore and compare firms' websites to see what resonates about a firm over another. This exercise may uncover insight and help reveal differences that matter to you.
Get to know the industry more broadly. Read the legal and business press. Understand the trends that may influence the rise or fall of certain practice areas; securities law after Lehman's swan dive looks a whole lot different than before.
Blogs, blogs, blogs. Follow the ones you think are consistently most valuable and reliable. You'll get insights and perspectives not available elsewhere. RSS links will deliver them to your reader. Make a point of commenting on lawyers' blogs and begin to create your identity. Don't become annoying, however; comment with relevance and in moderation.
Consider alumni a valuable resource. Reach out to alumni at firms you're interested and talk to those who summered at those firms. Expand your network beyond your own school. Any of your college pals at other law schools? Don't ignore friends and family; they want you to succeed nearly as much as you do. Do follow networking etiquette – reciprocate.
About JD Match
JD Match is an online recruiting membership service founded in April 2011 to address the flawed system for recruiting law students into law firms. It is open to all U.S. law schools, law students and firms seeking to hire from law schools. Please visit JDMatch.com; follow us on Facebook, Twitter or via our LinkedIn company page.
# # #