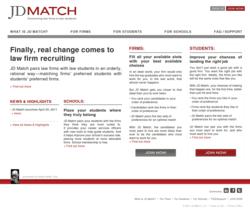 While law students may scoff at the perceived ease of conducting a job interview on Skype, it's not as simple as it looks," said Janet Stanton, CEO of JD Match.
New York, NY (PRWEB) October 17, 2011
JD Match is an online recruiting service designed to address the flawed law student hiring process. JD Match is free to all law students from U.S. law schools and has over 1,700 law student members, 15 law schools and seven U.S. law firms that have signed on as members since April 2011 when the service launched. When fall on-campus interviewing began, JD Match ran its algorithm weekly and during the process, law students ranked 40,000 law firms or offices.
Through a series of published tips, the service is providing suggestions to law students to hone interviewing skills using a variety of digital media.
"Now that the fall on-campus recruiting season has wound down, law students will need to polish interviewing skills to prepare for meetings in non-traditional settings such as Skype or mobile web cams," said Janet Stanton, CEO of JD Match. "While some people may scoff at the perceived ease of doing a job interview on Skype, it's not as simple as it looks."
Stanton makes the following suggestions for law students interested in honing interviewing skills using Skype as the communications medium of choice. Law firms interested in keeping interviewing costs at a minimum are turning to Skype as a way to screen candidates prior to bringing them in for a face-to-face meeting. The following tips should be considered:
Skype "is the same, but it's not." This is, after all, an interview and many of the fundamentals of interviewing still apply. For instance, prepare and rehearse story delivery in nuggets rather than as a single narrative. Lead each response with the most important and relevant points. Prepare insightful questions for the law firm, and send a thank you note. That said, there are some key aspects that differ from in-person interviews, which are discussed below.
Set the stage. Ensure the ambiance projected to interviewers underscores gravitas and attractiveness as a candidate. The background should look professional and neat bookshelves, or a subdued, warm-colored wall are always acceptable. Plants add a nice touch. Ensure roommates, children and pets are neither seen nor heard.
Check the lighting. Natural lighting is best, so if a monitor can be set up in front of a window, that's ideal. If not, try positioning a lamp at about forehead level. Test different placements, and look on screen to see what looks most flattering. Avoid back lighting; as faces become black blobs to anyone viewing. Angle the waist slightly forward toward the screen/webcam to appear engaged.
Wardrobe, please. Of course, dress professionally just like for any in-person interview; no cargo pants below camera level! Colors are entirely different on-screen than they are in person; wear dark, though not black, suit. A blue shirt or blouse should replace the white one worn to in-person interviews. Reds are unpredictable on screen, and avoid stripes or strong patterns.
Makeup, too. Acknowledge the differences of being on-screen. Ladies, use subtler hues; do wear some makeup, so as to not look washed out. Both ladies and gents should consider a little face powder to avoid any greasy shine.
It may seem counter-intuitive, but look into the camera, not at the screen. Eye contact is so critical during a Skype interview! So, do look at the camera always instead of watching body and face movements on the screen. Remember to smile and be enthusiastic, as Skype tends to dampen one's personality.
Speak clearly and a little more slowly than usual. No connection is as clear as in-person; so, allow for that. Also, it's easy to "talk" over others on Skype. Be sure the questioner has finished asking his or her question before responding.
Tech prep. Ensure your internet connection is working properly; don't use wi-fi as it can be unreliable. Become comfortable using Skype if you're new to it. Turn off email, TweetDeck, mobile phones, and other devices that may ping, ring or chirp during an interview.
Dress rehearsal. Beyond the usual practice sessions in the mirror, set up a dress rehearsal a couple of days before the interview. Ask a friend a) with a Skype account and b) who will give you honest feedback to play the part of the interviewers. Stage the background, don an interviewing suit, set lighting, powder the nose, chin and forehead. Test audio, video, speech delivery and practice pausing while others speak. Adjust accordingly so everything during the actual interview is perfect!
About JD Match
JD Match is an online recruiting membership service founded in April 2011 to address the flawed system for recruiting law students into law firms. It is open to all U.S. law schools, law students and firms seeking to hire from law schools. Please visit JDMatch.com; follow us on Facebook, on Twitter @JDMatch or via our LinkedIn company page. Also subscribe to our blog, JD Match Views.
###