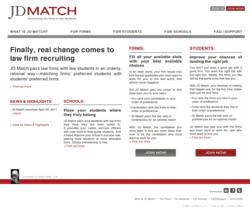 Be smart and professional when engaging online and watch for the flippant or snarky remarks.
New York, NY (PRWEB) September 20, 2011
JD Match is the first-ever online recruiting service designed to address the flawed law student hiring process. Free to all law students from U.S. law schools, and now with over 1,500 law student members and seven U.S. law firms, JD Match is designed to pair law students with their preferred firms and law firms with their preferred students.
With the fall on-campus recruiting season winding down it's more imperative that law students continue to seek employment using a variety of other tools. The following tips are offered by Janet Stanton, CEO of JD Match, to help all law students hone job-seeking skills throughout law school and build a professional brand online.
Switch your mindset to building a professional brand. Take down any risqué photos of body parts, alcohol binges or goofy musings that you wouldn't want the Managing Partner of your favorite firm to see. You know you need to do this; now do it.
Create business-oriented profiles on Facebook, Twitter and LinkedIn. Don't be too overt about what you want. These are communities, not job posting sites. And, don't include provocative, funky or suggestive words to describe you. Your goal is to generate goodwill and build a positive image online which contributes to your personal brand building, too.
On Facebook, "like" firms you're interested in. If there is the opportunity to comment on their newsfeed, by all means do so. Be smart and professional when doing this and watch for the flippant or snarky remarks.
Same goes for LinkedIn groups and Twitter. Again, use good judgment in what you post and respond to, how frequently you show up in someone's group and how you do so. Case in point, never post a comment every day on a page, group, wall, or to someone's Twitter ID. Too much is annoying, bordering on stalking; too little and you won't make an impression.
Engage more on law blogs. Follow those you think are most valuable and reliable. Comment positively on posts you think are helpful. Consider adding your own perspectives on issues. Generally, stay away from negativity online; it can be misinterpreted. When you engage on blogs, you become part of a community; that's when your position and professional reputation benefit.
Don't forget firms' blogs. Begin following blogs of firms you're interested. Again, engage judiciously. This will help build your "brand" with the firm even before you meet them.
About JD Match
JD Match is an online recruiting membership service founded in April 2011 to address the flawed system for recruiting law students into law firms. It is open to all U.S. law schools, law students and firms seeking to hire from law schools. Please visit JDMatch.com; follow us on Facebook, Twitter @JDMatch or via our LinkedIn company page. Also subscribe to our blog, [JD Match Views.
###