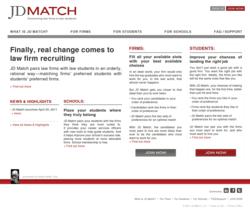 "As law firms become more strategic, it's common for 3Ls to get hired by firms of all stripes and sizes," said Bruce MacEwen, JD Match president.
New York (PRWEB) May 14, 2011
JD Match, the first-ever online recruiting service designed to address the flawed law student hiring process, is inviting third-year law students (3Ls) who have no offers of permanent employment by a law firm, to become members alongside second-year law students and participate in the JD Match fall 2011 and spring 2012 online recruiting season for the inaugural fee of $99.
Market feedback from more than 200 3Ls prompted JD Match, which launched early May, to confer with developers and adjust its proprietary matching algorithm to include third-year law students this year rather than in 2012. JD Match is the first-ever online recruiting service designed to address the dysfunctional law student hiring process with a more efficient system. The service is membership based and is open to all law students, law firms and law schools in the U.S.
"During pre-launch and launch periods we've been hearing from many 3Ls without an offer who need to increase their odds of getting matched with a law firm," said Janet Stanton, CEO of JD Match. "Based on the urgency of these appeals, we decided to include 3Ls and give them an opportunity to find full-time employment at this late date in their education. Market feedback will continue to drive new developments with JD Match as we depend on these insights."
JD Match will run its matching algorithm several times during the fall 2011 on-campus recruiting season. The software will pair 2L and 3L law student members with law firm members based on the preferences of each. Beyond the algorithm, JD Match has several other features to benefit firms, students and schools, including services enabling firms and students to discover each other in ways not previously available.
"As firms have become more strategic in their hiring practices, it is more common for firms of all stripes and sizes to hire 3Ls," said Bruce MacEwen, President of JD Match. "The inclusion of 3Ls this fall will add to the services JD Match provides firms from the get-go."
The new online solution uses a proprietary matching algorithm and other features to pair firms' preferred students with students' preferred firms and increase the chance for longer-lasting relationships between the two parties. All of JD Match services are available to second- and-third-year law students; job offers are not made via JD Match.
JD Match operates as an overlay to traditional recruiting practices and helps streamline introductions between firms and students. JD Match complements (and does not replace) traditional on-campus interviewing during which the top 250 law firms ranked by the National Law Journal fill an estimated 9,500 associate positions annually from U.S. law schools.
About JD Match
JD Match is an online recruiting membership service founded in April 2011 to address the flawed system for recruiting law students into law firms. It is open to all U.S. law schools, law students and firms seeking to hire from law schools. Please visit JDMatch.com; follow us on Facebook, or Twitter @JDMatch.
# # #