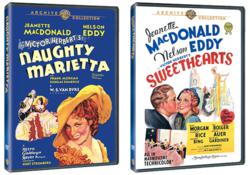 "We are thrilled to offer these wonderful films to our customers," said Jerry Frebowitz, president of Movies Unlimited. "They are among the most requested titles among all cinema collectors, and I am sure fans of Jeanette MacDonald and Nelson Eddy will be
(Vocus/PRWEB) April 05, 2011
Movies Unlimited, one of the world's leading DVD retail outlets, proudly announces the release of Naughty Marietta and Sweethearts, two classic films starring Jeanette MacDonald and Nelson Eddy. The much-requested, never-before-on-DVD titles will be available in a limited exclusive release through the company's website, moviesunlimited.com.
Naughty Marietta and Sweethearts are two of the eight films the popular screen duo starred in for MGM Studios from 1935 through 1942. Dubbed "America's Singing Sweethearts of the 1930s," the pair made musical screen magic that still exhilarates audiences today. Both are being offered in beautifully transferred editions taken from pristine masters from the Warner Archives, which took years to master properly for the DVD market.
Naughty Marietta (1935) -- Jeanette MacDonald and Nelson Eddy star in Naughty Marietta (1935), directed by W.S. Van Dyke (The Thin Man), was the first film the pair made. Using songs written by Victor Herbert for his operetta, the film stars soprano MacDonald as an 18th-century French princess who heads to the New World to escape an arranged marriage. While on the journey with a group of women, her ship is attacked by pirates, but she and her associates are rescued by a mercenary captain, played by baritone Eddy, who takes them to New Orleans, where adventure, romance and, eventually, Eddy's companionship await. Nominated for two Academy Awards including Best Picture, Naughty Marietta showcases such songs as "Tramp, Tramp, Tramp," "Ah, Sweet Mystery of Life," and "Italian Street Song."
Sweethearts (1938) -- Jeanette MacDonald and Nelson Eddy star in Sweethearts (1938), the pair's first film in gorgeous Technicolor, was also helmed by Van Dyke and also incorporates music from a Victor Herbert operetta. It spotlights MacDonald and Eddy as a weary married acting couple who seek refuge in Hollywood after performing their hit play "Sweet- hearts" on Broadway for six years. Fearing the couple's departure will ruin their careers, their entourage attempts to split up the couple by planting the notion that Eddy is having an affair with his personal assistant. Their hope is that the couple will stay in theater, taking their popular show on the road separately. Songs in this exuberant backstage musical-comedy include "Pretty as a Picture" and "Every Lover Must Meet His Fate."
Movies Unlimited is the oldest, most reliable video retailer specializing in selling DVD and Blu-ray titles. They operate the moviesunlimited website and publish both the annual encyclopedic Movies Unlimited 2011 DVD Catalog and the Turner Classic Movies DVD Catalog and MovieFanFare the Blog for movie collectors.
# # #