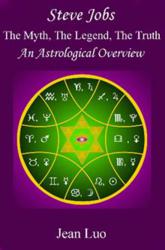 Who was [Steve Jobs]? Was he really a genius far beyond the majority of people on the earth plane? Was he really chosen to be special? Where did his talents come from?
Issaquah, WA (PRWEB) August 21, 2012
On Wednesday October 5, 2011, former Apple CEO Steve Jobs died from pancreatic cancer; his death, and life, became international news. Like any person, Steve Jobs was more than his public persona. Jean Luo uncovers all of the sides of this fascinating man through her book, Steve Jobs, The Myth, The Legend, The Truth, An Astrological Overview. Jean looks at various elements in Steve Jobs' astrological birth chart and compares those elements to experiences from his own life.
Steve Jobs had a strong desire to change the world and to serve humanity on a grandiose scale; he also had the ability to merge creativity with technology. He could be viewed as being petulant and unkind in dealing with other people, which caused some to think he lacked basic emotional awareness. However, Steve Jobs was very in tune with his emotions, and was not shy about showing his vulnerability or even crying in front of others.
Steve Jobs was a very complex, multi-faceted human being with a very mystical aura about him. Who was he? Why was he so obsessed with perfection and why did he try so hard to be perfect with everything he created? Why was he so brilliant in creation, but somehow very "underdeveloped" in dealing with conflict, confrontation, and relationships with people? His brightness and his darkness are irreconcilable, yet they existed side by side through his entire life. What made him so exclusively interesting and mysterious with such attraction and repulsion? Why was he the way he was and what made him that way? Jean Luo delves into these and other questions, uncovering the mystery of Steve Jobs in a new light.
Here is what world renowned spiritual teacher and astrologer Margaret McElroy has to say about Steve Jobs: The Myth, The Legend, The Truth, An Astrological Overview: "Although I am a part of Jean's book, I have not been involved in any of the writing of it. I have finally read it and what can I say? I am speechless. What an amazing book. As an astrologer myself, I am in awe of Jean's incredible knowledge of astrology and her intuitive insight. I know what she states in the book about Steve Jobs coming to her is true, once you meet Jean you will also understand it yourself. This is an amazing book which needs to be read if one wishes to understand the man whom Steve Jobs was. It is an amazing book!"
Jean Luo has a Ph.D. in Pharmacology, but her passion lies in assisting those searching for answers to making their life a happier one. She has studied astrology and metaphysics for eight years. Jean offers intuitive guidance services utilizing astrology, the energy of color, flower essences, emotion code and past life regression to help clients release blocked energy and to assist them in moving forward on their life path. She is also a co-host of the radio show, The Energies of Your Life.
Jean Luo's book on Steve Jobs is written from a astrological perspective. Steve Jobs: The Myth, The Legend, The Truth, An Astrological Perspective is currently available in the following eBook formats; EPUB, MOBI and PDF through the publisher, Booktango.