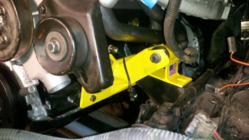 "Very early on in the planning stages, we contacted Brown Dog. The quality and durability of their motor mounts is unmatched."
Gilbert, AZ (PRWEB) February 01, 2012
Covering some of the same torturous King of the Hammers (KOH) race course as unlimited Ultra4 racers, the inaugural Every Mans Challenge race runs 100 miles across immense, unforgiving rocks and vast wide-open desert. Unlike KOH Ultra4 racers, Every Mans Challenge rules limit modifications to keep costs in check. This means entrants running a Jeep Wrangler TJ, YJ, or Cherokee XJ, are limited to the type of four- or six-cylinder engine originally sold in the vehicle.
Team NAXJA (North American XJ Association), part of Petty Cash Racing, is ready for the challenge. One of their first steps was to strengthen weak areas of the stock 1989 Cherokee XJ. This is why they contacted Brown Dog Offroad.
"For years, we've been saying that if King of the Hammers ever had a race for full body rigs and 35" tires, we'd have no excuse not to win it. When Ultra4 announced just such a class for the 2012 event, they called our bluff," explains Matt Adair, Owner, Manager, and Driver, Petty Cash Racing. "The Cherokee is an inherently ideal vehicle for the new class, but only once suitably beefed up to handle the grueling Johnson Valley trails. This is why, very early on in the planning stages, we contacted Brown Dog. The quality and durability of their motor mounts is unmatched and we are very pleased not to have to worry about our engine falling out during the race."
Racing in the King of the Hammers (KOH) at Johnson Valley, California, is not new for Team Petty Cash. Most team members have participated for years. Several were with Team NAXJA in 2008 and 2009. In recent years Team NAXJA was dwarfed by Ultra4 Unlimited rigs, which are built on custom chassis, with high-powered swapped in engines, and custom-built drivelines. Custom-built race rigs do not have much in common with family Cherokees and Wranglers modified to handle weekend off-road adventures.
"We are not making special parts for the racers. Brown Dog Offroad is about the average guy being able to install parts on his Jeep that survive the rigors of offroading without breaking in the middle of nowhere. Our service is geared toward a guy turning the wrenches himself. To support him, we're available to answer any questions in real time. This concept addresses race team needs as well...durable parts, and technical assistance at their finger tips. What's really neat is that our parts used by race teams are the very same parts the weekend off-roader uses," explains Tim Shideler, Chief of Engineering and Production, Brown Dog Offroad.
The extreme conditions of the Every Mans Challenge race invoke radical stress on the entire vehicle. Many Jeep Cherokees and Wranglers powered by the in-line six-cylinder 4.0L or 4.2L engine are stroked to 4.6L or 4.7L. This increased torque, combined with added stress from an extreme race course, puts unimaginable forces on every part attached to the engine. Any weakness will be exposed.
Unfortunately the original engine mount system uses three bolts to hold the mounting bracket to the engine. Under stress, the bolts can shear or tear the thread bosses off of the block. To solve this, Brown Dog Offroad developed the Super Engine Mount Kit system, with engine block brackets that utilize up to eight bolts and extreme duty motor mounts. The kit does not require the installer to make any modifications. The bracket bolts in to existing engine thread bosses and the motor mounts bolt to the frame.
The Brown Dog Offroad Super Kit installed on the Team NAXJA 1989 Jeep Cherokee XJ is identical to the kits often installed in Cherokees built for weekend trails explored by families across America. The wear and tear encountered in this one-day race would ordinarily take months or years for weekend off-road warriors to achieve.
"NAXJA is proud to support our members in a racing endeavor such as the King of the Hammers Every Man Challenge. Team NAXJA is an excellent representative of our club and the knowledge they gain is something that will benefit the NAXJA community as a whole. While most NAXJA members are family guys who enjoy a weekend of camping at regional club events, sponsoring a race vehicle gives us the opportunity to raise awareness of the Cherokee XJ as an off-road capable vehicle. Our members share what they've learned with others who are modifying their Cherokee to withstand whatever conditions a guy wants to conquer be it a daily driver that sees the occasional off-road trail, an extended expedition, geocacheing, or a race course," said John Bergacs, President, NAXJA. "This is Team NAXJA's third endeavor in the King of the Hammers event and just as the last two were, this one will be supported by the XJ community as a whole."
Drivers for Team NAXJA/Petty Cash Racing Every Mans Challenge include Richard Gauthier, driver of record, Cal Tuttle, co-driver, and Matt Adair, co-driver. Read more about Team NAXJA/Petty Cash Racing Every Mans Challenge XJ build on the NAXJA.org forum (http://naxja.org/forum/showthread.php?t=1075100).
Fans unable to attend can follow Team NAXJA/Petty Cash Racing during the Every Man Challenge race through live GPS tracking at http://www.ultra4racing.com/live. Real-time race tracking accompanied with chatting starts at 8am (PST), Sunday, February 5. A one hour recap of Every Man Challenge race with video highlights start at 5pm.
In addition to Brown Dog Motor Mounts and Engine Brackets, other Team NAXJA/Petty Cash Racing #4643 Cherokee XJ SUV sponsors include: G&G Offroad, Bishop-Buell Racing Engines, Goodyear Tires, Ten Factory Axles, Hooker Harness, Bilstein Shocks, Raceline Wheels, Warn Winches, Yukon Gear and Axle, Solid Axle, Full Traction Suspension, JKS Manufacturing.
About Team NAXJA/Petty Cash Racing – Team NAXJA debuted back in 2008 when NAXJA member Richard Gauthier drove his trail-rig turned race-Cherokee to an astonishing 7th overall in the punishing 100+ mile endurance rock/desert race. Team NAXJA returned in 2009 and finished the grueling event, but a bit lower in the standings. Then several members from Team NAXJA decided to continue racing, but at a different venue. The result: Petty Cash Racing. In 2010, the team found a $200, 200k mile, 23 year old 2WD Cherokee SUV and converted it into an endurance racer to compete against sports cars on road courses. In 2011, they took the highest honors in the 24 Hours of LeMons racing series, the Index of Effluence award. Team Petty Cash and NAXJA brought Team NAXJA back to life for the Every Mans Challenge by adding a 1989 Cherokee XJ 4WD to the stable. For more information, go to: http://pettycashracing.wordpress.com or http://www.facebook.com/TeamPettyCash.
About King of the Hammers' Every Mans Challenge – For the first time ever, off-road enthusiasts will race their stock and modified stock vehicles in the toughest one day off-road race on the planet. The inaugural stock class race, called Every Mans Challenge will utilize a portion of the same course used by King of the Hammers Ultra4 vehicles the following week in Johnson Valley, California. For more information, go to: http://www.Ultra4.com.
About NAXJA - NAXJA is the largest Jeep Cherokee (XJ) and Comanche (MJ) club in the world. With more than 38,000 registered forum users and 1300 paid club members who organize ten regional and one national event annually. NAXJA on-line forums are largely regarded as the premier technical source for Jeep XJ's and MJ's. Event raffle donations and club membership fees support land-use and other related non profits (search and rescue, volunteer fire departments, etc). NAXJA is a member of the United Four Wheel Drive Association, Tread Lightly! and the Blue Ribbon Coalition. For more information, go to: http://www.NAXJA.org.
About Brown Dog Offroad – Born from a broken stock engine bracket, miles from civilization on the old mining trails in Arizona's Superstition Mountain Range, Brown Dog Offroad engineers and manufactures high performance motor mounts, motor mount lifts and engine brackets for Jeep Cherokee XJ, Comanche MJ, and Wrangler YJ and TJ. Brown Dog products are made with pride in the USA of materials including steel, hardware, bushings and others that are also made in the USA. Product support including technical assistance is provided afterhours and weekends. Brown Dog brackets and mounts are backed with a lifetime warranty. For more information, go to: http://www.BrownDogOffroad.com.
Contact:
Karol Shideler
Brown Dog Offroad
Phone: 866-401-3877
karol(at)browndogindustries(dot)com
###