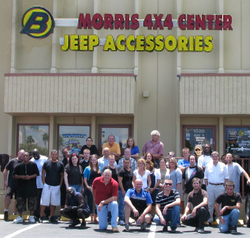 We look forward to continued success with the support of our customers
Pompano Beach, FL (PRWEB) May 26, 2010
20 years ago Glenn Morris had a vision and was joined by Jan Gorman the company VP and CFO, and Morris 4x4 Center was born in sunny southern Florida. In 2006 Robert Quilty came on board as VP of Operations and completed the Senior Management team. From its humble beginnings of 3 staff members exporting vehicles to a Jeep parts industry leader in E-commerce, Morris 4x4 Center continues to grow and lead the way.
Morris4x4center.com offers over 30,000 Jeep parts and Jeep accessories for 1941 to 2010 Jeep Willy's, CJ5, CJ7, CJ8, Wrangler YJ, Wrangler TJ, Wrangler TJ Unlimited, Wrangler JK, Cherokee, Grand Cherokee, Wagoneer, Commander, Patriot, Liberty and Compass as well as the Suzuki, Tracker and Isuzo. Morris 4x4 has a growing dedicated staff of 37 employees' within 5 internal departments that make up the organization.
The sales department is comprised of true blue Jeepers. Bill, the Sales Manager is a Jeep Wrangler Unlimited owner. John is in the process of rebuilding his Jeep Cherokee, while George loves to go off-roading with his Jeep Wrangler TJ Rubicon. Trey hits the trails in Northern Florida with his Jeep Wrangler TJ, and Chris and Eric are experienced Jeepers with their knowledge base from working at Chrysler Jeep in the past. Jeeps are their work, and play!
The Customer Service department can resolve any issues that arise, they are experienced, well trained, and knowledgeable Jeep Experts who care about customers. Lead by Nancy, Juan, Jessika, and Amy, they are here to help and ease the process.
The Distribution Center Rocks!! It's the nerve center of the entire operation! Inventory coming in, new Jeep Parts, orders going out and the team of Ron, Fedner, Glenzie, Shawn, Bobby, Exalese, James, Greg, Jean, Alex and John making sure your Jeep gets what it needs!
The Accounting team has your number! They are on top of keeping us in good shape so we can share the savings with our loyal customer base. You can count on Nanda and Suzy.
We are customers too, and the Purchasing department is like no other. They always go the extra mile to get high quality product at reasonable prices for our customers. Purchasing is driven by Glenn and Brooksie and they strive to deliver value every time.
With a constant flow of the orders from their website or by telephone the processing department is always busy. The orders are processed and expedited with care and accuracy by their order processor Kim, with back up from the accounting department.
The Web Department employs a lot of talent, including a graphics team, web designers, coders, marketing and so much more. This team is constantly making changes to improve the customers experience on our site and provide visual and written information so you can find everything your Jeep needs. The Web Department consists of Jeff, Nasandy, Jim, Devon, Herman, Adam, Bruce and Lourdes.
Stay tuned to Facebook and on our other sites for more photos.
We look forward to continued success with the support of our customers as we attempt to run this company with God's direction as exemplified in the Bible,
Proverbs 16:3 Commit Your Works to the Lord and Your Thoughts will be Established.
Morris 4x4 Center is a Faith driven company where integrity and honesty is of utmost importance. They take pride in providing value and quality to their customers by offering trusted brands that are priced right. With over 20 years of experience Morris 4x4 Center is the authority in Jeep Parts and Accessories.
###