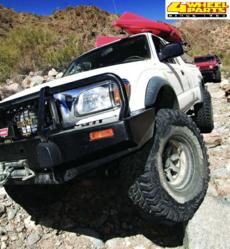 Compton, CA (PRWEB) September 18, 2012
4 Wheel Parts, a leading retailer and distributor of aftermarket parts for trucks and Jeep accessories is offering a series of special promotions and events geared toward helping vehicle owners maintaining and servicing their vehicles heading into the fall and winter seasons. At select 4 Wheel Parts stores around the United States, customers will not only find the best Jeep clothing but be able to present coupons for services ranging from inspections to alignments, as well as mounting and balancing when a wheel-and-tire package is purchased. The promotions will extend through the end of September. Several stores are also offering customer appreciation events featuring food, fun, prizes, and off-road riding for participants.
At 4 Wheel Parts Memphis, the Charlotte 4 Wheel Parts store, and 4 Wheel Parts Nashville, deals will focus on offers for free nitrogen for car, truck, and SUV tires, as well as a Smittybilt tow strap for $10, both redeemable with a coupon. Customer Appreciation runs have or will soon take place in McAllen, Texas, Hollister, Calif., and Gorman Calif., featuring fun events for off-roads enthusiasts, including obstacle courses, rock climbs, trail rides, food, prizes, and other family-focused activities.
Other incentives include service specials, including vehicle inspections and alignments. When the weather changes, it's important for vehicle owners to have their vehicles checked out, fluids topped off, and the alignment checked before the onset of the cold winter months, after the hard driving of the long summer months.
About 4 Wheel Parts: 4 Wheel Parts at http://www.4wheelparts.com is a retailer and service provider specializing in aftermarket parts for off-road and 4x4 enthusiasts. With 56 locations nationwide, 4 Wheel Parts supplements its retail centers with a robust mail-order and e-commerce distribution network to serve customers around the country and around the world. 4 Wheel Parts carries a large inventory of truck and Jeep parts, including lift kits, tonneau covers, tires, winches, and more.