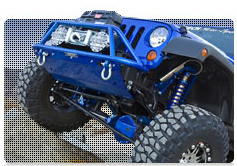 Off-road Jeep enthusiasts can enter the catalog cover contest through the iShop4WD.com website.
Columbiana, Ohio (PRWEB) May 31, 2012
4Wheel Drive Hardware, a distributor of aftermarket Jeep parts and equipment, announced Doug Clayton of Albemarle, N.C., as the winner of its Late Spring/Early Summer Catalog Cover contest. For winning the catalog cover contest, Clayton will receive a $500 promotional gift card good for Jeep doors, parts, equipment, and services at 4Wheel Drive Hardware. The promo card can be redeemed in person at the 4Wheel Drive Hardware retail store in Columbiana, Ohio, over the phone, or online at 4WD.com.
Clayton's current Jeep project is a 2012 JK Wrangler Rubicon, that he enjoys taking through the backcountry of North Carolina. His favorite terrain includes the logging trails in and around the town of Boone. Clayton's Wrangler features numerous aftermarket modifications, including a Mickey Thompson wheel and tire combo, a Daystar ComfortRide 3-inch lift kit, a K&N cold-air intake system, a Gibson Performance exhaust system, Billet aluminum grille inserts, and molded mud guards, floor mats, and cargo liner by Husky.
Clayton installed some of the parts himself in his spare time, but some projects required a bit of assistance. Mabry Automotive installed the exhaust system and the lift kit for Clayton (exhaust systems and Jeep lift kits generally require professional installation). Albemarle Tire mounted and balanced the Mickey Thompson 35-inch MTZs onto the Classic Lock wheels. Clayton still has several projects in mind for the Wrangler, and plans to use the prize promo card to help fund future upgrades.
Off-road Jeep enthusiasts can enter the catalog cover contest through the iShop4WD.com website, where readers post photos and descriptions of their Jeep projects. 4WD staff select the winner for each catalog cover from posted entries. Entries are posted to the blog on iShop4WD.com for all Jeepers to discuss trade advice, offer suggestions, and seek assistance.
About 4Wheel Drive Hardware: 4Wheel Drive Hardware is a top industry provider of Jeep parts and accessories, with a focus and passion for the off-road industry. Find all the latest Jeep products and connect with other Jeepers around the world at 4WD.com.