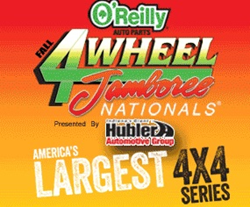 4 Wheel Parts will join sponsors at the 33rd annual O'Reilly Auto Parts Fall 4-Wheel Jamboree Nationals in Indianapolis this weekend.
Compton, California (PRWEB) September 17, 2014
Industry-leading providers of aftermarket parts and accessories for trucks and Jeeps, 4 Wheel Parts, will join sponsors at the 33rd annual O'Reilly Auto Parts Fall 4-Wheel Jamboree Nationals in Indianapolis. September 19-21, off-roading enthusiasts will descend on the Indiana State Fairgrounds for a variety of family-focused 4x4 activities. Over 4,500 Jeeps and trucks are expected for the final leg of the 4-Wheel Jamboree Nationals series.
This Lucas Oil 4-Wheel Jamboree is presented by O'Reilly Auto Parts and Hubler Automotive Group. Parts of the event are being filmed and will run on different TV channels including ESPN 2, Fox Sports Network, SPEED, Spike TV and The Outdoor Channel. Previous Family Events Nationals Jamborees this year happened in Lima, Ohio, Springfield, Illinois, and Bloomsburg, Pennsylvania.
The three day schedule features:

General Tire Monster Truck Thunder Drags® & Axle Wrenching Freestyle Competition
Dick Cepek Burnout Competition
FOX SHOX Proving Grounds
Mickey Thompson Tough Trucks® Challenge and Show-N-Shine Competition
TV personality Ian Johnson, host of PowerNation's Xtreme Off Road
Off-Road & Outdoor Expo With Over 50 Onsite Vendors
4 Wheel Parts is an Event Level Sponsor at the event and in the Parts Pavilion, affiliate 4WD will display its Zombie Slayer Jeep. Visitors can vote for a Tire & Wheel package to add to the Jeep and enter for a chance to win Tires & Wheels for their own rigs. "Displaying the 4WD Jeep at events gives the enthusiasts who voted on parts a great chance to see how we're progressing on the ultimate zombie slaying machine," says 4WD Website Manager Kelly Young.
About 4 Wheel Parts: 4 Wheel Parts is a retailer and service provider specializing in aftermarket parts for off-road and 4x4 enthusiasts. With more than 70 locations throughout North America, 4 Wheel Parts supplements its retail centers with a robust mail-order and e-commerce distribution network to serve customers around the country and around the world. 4 Wheel Parts carries a large inventory of truck and Jeep parts, including tires and tonneau covers. The toll-free order number is 877-474-4821.