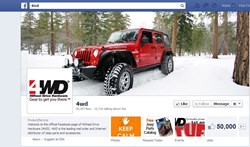 Our Facebook page has come a long way and the feedback we get from Jeep lovers has really helped the site evolve.
Columbiana, Ohio (PRWEB) February 03, 2014
Prominent provider of aftermarket Jeep parts and accessories, 4WD, is proud to reveal that its Facebook page recently reached a landmark by logging a total of 50,000 "Likes." The Facebook page is a social media destination for Jeep enthusiasts to share their off-road experiences and pictures and unite with the 4x4 Jeeping community. Since June, 2009, the 4WD Facebook page has been a hub of information for Jeep lovers featuring photos, Truck & Jeep fests, sweepstakes and contests, Jeep club events, special deals on Jeep parts, and off-road related charities and causes.
"Our Facebook page has come a long way and the feedback we get from Jeep lovers has really helped the site evolve," says Kelly Young, 4WD.com Internet Manager. "While it means different things for different visitors and can be everything from educational to entertaining, everyone is enthusiastic about Jeeps and 4x4 culture."
The Facebook page has recently been a key arena for 4WD to promote sweepstakes and giveaways that give the online community a great platform to interact, share, and learn. Last fall's 4WD Jeepers vs. Zombies Last Man Standing sweepstakes was popular on Facebook with comments from entrants. Over the 2013 holidays, the Facebook page promoted the 4WD Deck Your Jeep photo contest and gave updates on entries.
Visitors to the 4WD Facebook page can post everyday Jeep lifestyle images and caption onsite photos. One favorite activity is posting some e cards stylized pictures with messages extolling the virtues of Jeeps. "I'm having one of those days that only my Jeep can fix" and "You're never too young to start mudding" are among the sentiments you can find posted on the page. In addition to announcements of website deals, online users can participate in polls, and learn about current issues and causes affecting the Jeep community.
About 4Wheel Drive Hardware: 4Wheel Drive Hardware is a top industry provider of Jeep parts and accessories, with a focus and passion for the off-road industry. Whether you're looking for Jeep wheels, interior accessories, or Jeep soft tops, check out 4WD and connect with other Jeepers worldwide. The toll-free order number is 800-555-3353.