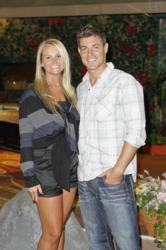 We're thrilled to bring this fun opportunity for our customers. They'll have a chance to meet Jeff and Jordan, take their picture with them, and get a real sense for the charm of this happy couple.

Jim Navarra, Director of Marketing at Jerome's
San Diego, CA (PRWEB) July 17, 2012
WHAT:
Jerome's Furniture (Jerome's) is excited to host a special visit from Jeff Schroeder and Jordan Lloyd, stars of the CBS reality TV hits "Big Brother" and "Amazing Race" for a meet and greet with fans. Attendees will get a chance to visit with the reality stars, take a photo with them, and hear about how they are settling into their new Southern California home.
Jerome's recently expanded its Southern California footprint into San Bernardino County and is proud to bring special engagements like this reality star visit for customers to enjoy. The family-owned company is known for its wide selection of furniture and accessories made affordable at an everyday low price known as "Jerry's Price." Now, even Jeff and Jordan are fans with Jerome's furniture outfitting their new apartment.
This summer, fans are following Jeff and Jordan from the hit reality TV shows on their cross-country adventure as they drive from Chicago to their new home in Los Angeles in a web-exclusive series on CBS.com. "Jeff and Jordan Do America" premiers July 18 featuring their route down Route 66 to their first home together. Fans can learn more by visiting http://www.jejofansite.com.
"We're thrilled to bring this fun opportunity for our customers," said Jim Navarra, director of marketing at Jerome's. "They'll have a chance to meet Jeff and Jordan, take their picture with them and get a real sense for the charm of this happy couple."
WHERE:
SAN BERNARDINO COUNTY VISIT
Saturday, July 21, 2012 from 1 – 4 p.m.
11750 East 4th St., Rancho Cucamonga, CA 91730-6131
SAN DIEGO COUNTY VISIT
Saturday, August 4, 2012 from 1 – 4 p.m.
1190 West Morena Blvd., San Diego, CA 92110
ABOUT JEROME'S:
Founded in 1954, Jerome's Furniture is a family-owned and operated business headquartered in San Diego, Calif. with eight showrooms and six clearance centers located across Southern California and an e-commerce website providing avenues for consumers to enjoy online furniture viewing and buying. Regarded fondly by generations of families, Jerome's is known as the best furniture retailer for value ("Jerry's Price") and a wide selection of products, including mattresses, formal dining furniture, and leather couches. Recognized with numerous awards including Retailer of the Year by the Western Home Furnishings Association (WHFA) and Honoree of the San Diego National Bank Founders Award along with many other business recognitions as the best furniture store, customers know they can count on Jerome's to make it easy to shop for furniture with service support including interior design, same day delivery and financing. More information can be found by visiting http://www.jeromes.com.