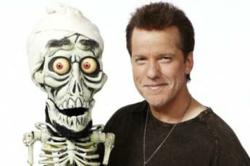 As an entertainer, Jeff Dunham has truly impacted popular culture
Miami, FL (PRWEB) December 20, 2012
Master ventriloquist Jeff Dunham brings his own special brand of contemporary comedy, uninhibited hilarity, and unforgettable characters back on tour for 2013. The stage show includes stops in cities across the US and in Canada.
Jeff Dunham tickets:http://doremitickets.com/Concerts-Tickets/Comedy/Jeff-Dunham-Tickets
Dunahm's stage creatios have had the crowds in stiches for years. Walter, Bubba J, Peanut, Sweet Daddy Dee, and others are back on stage for the latest round that is sure to have either first time visitors or supportive fans in the floor laughing.
The tour is hot off the heals of his latest Comedy Central special "Jeff Dunham: Minding the Monsters," which aired in October 2012, and his successful "Controlled Chaos" tour.
Tickets are on sale for Jeff Dunham:
January 8 and 9: Mile One Centre, St. Johns, Canada
January 10: Moncton Coliseum, Moncton, Canada
January 11: Cumberland County Civic Center, Portland, ME
January 12: Agganis Arena, Boston, MA
January 13: Verizon Wireless Arena, Manchester, NH
January 23: Richmond Coliseum, Richmond, VA
January 24: Time Warner Cable Arena, Charlotte, NC
January 25: Wells Fargo Center, Philadelphia, PA
January 26: Giant Center, Hershey, PA
January 27: Times Union Center, Albany, NY
February 6: Sioux Falls Arena, Sioux Falls, SD
February 7: CenturyLink Center Omaha, Omaha, NE
February 8: Resch Center, Green Bay, WI
February 9: Peoria Civic Center, Peoria, IL
February 10: Van Andel Arena, Grand Rapids, MI
February 20: Germain Arena, Estero, FL
Februrary 21: Silver Spurs Arena, Kissimmee, FL
February 22: Tampa Bay Times Forum, Tampa Bay, FL
February 23: Columbus Civic Center, Columbus, GA
February 24: Donald L. Tucker Center, Tallahassee, FL
March 5: Bismarck Civic Center, Bismarck, ND
March 7: Rushmore Plaza Civic Center Arena, Rapid City, SD
More dates have been added. Prices for tickets and start times vary on the venue. For a more extensive list of dates, log on to http://www.doremitickets.com
Doremitickets.com #1 Source for Jeff Dunham tickets 2013 Secure Website, Money Back Guarantee.
Doremitickets.com is a retail website founded in 2009. Since launching in 2009, our website has helped connect thousands of live entertainment fans to the vast network of ticket brokers that list tickets on the doremitickets® Online Exchange. These professional ticket brokers offer more than 7.5 Million event tickets on our exchange every day.
Contact:
John Cruz
Email: info(at)doremitickets(dot)net