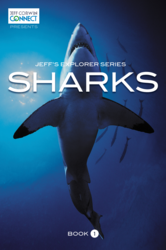 "I am excited to bridge the medium of TV and publishing through this Series and educate readers about species that we share this planet with. Many of these species now depend on our support for their survival", said Jeff Corwin, Executive Producer.
New York, NY (PRWEB) December 04, 2012
Today JeffCorwinConnect Inc, co-founded by Emmy award winning TV host and biologist Jeff Corwin, launches the first eBook in a new series, Jeff's Explorer Series: SHARKS. Footage Search Inc, which partnered with JeffCorwinConnect on this series, provided and produced all the media for this series. The eBooks are produced in conjunction with digital publisher Vook, who created the templates and designs for the series.
This eBook series, a first of its kind created for kids, families, educators and anyone passionate about nature, focuses on introducing both marine and terrestrial species to readers which are rarely explored in other publications, presenting them in a new light with never before seen edited video footage, showing the species in their natural habitats. The series aims to educate readers about the ecology and biodiversity of life on our planet in a fun, engaging, and conversational way. The eBooks are available on all reader and tablet platforms and available now on iTunes, Amazon, B&N.com and Vook.com. They can also be read online.
Jeff's Explorer Series: SHARKS, the first book of the series, focuses on introducing readers to sharks. Readers are invited on a one-on-one journey into the natural world of sharks with Jeff as their personal guide looking at iconic shark species fusing Jeff's signature narrative and editorial voice. "I am excited to bridge the medium of TV and publishing through this Series and educate readers about species that we share this planet with. Many of these species now depend on our support for their survival and we have the power to save them from extinction. In our first eBook, we look at Sharks who have been around for more than 400 million years, yet they may be the most misunderstood animals. In this eBook, you will come away with a better appreciation for these amazing creatures that are so vital to our aquatic ecosystems," said Jeff Corwin who personally curated the eBook.
Anurag Agarwal, co-founder and CEO of JeffCorwinConnect Inc. added, "Our vision for this series is to focus on the three dimensions of Education, Environment and Technology to create learning experiences making science more approachable and fun for kids and families. Jeff's Explorer Series: SHARKS is one of numerous upcoming titles including Wild Cats, Primates, Snakes and Penguins which will allow readers to own digital collections much like the old days where print editions and encyclopedias were part of every home library and a great source of knowledge".
"We're thrilled to have this opportunity to collaborate with JeffCorwinConnect," said Dan Baron, CEO at Footage Search. "To bring our world-class footage to this series, while promoting a passion for science and exploration, is a great opportunity for us to showcase the work of our leading cinematographers who filmed this exceptional footage on extreme locations across the globe."
JeffCorwinConnect and Footage Search will donate a portion of the profits generated from this eBook series to our partner organizations who help distribute this very valuable content to their communities. Corporations, not-for-profit organizations, zoos, aquariums or schools that are interested in using or distributing this series or would like to create an eBook for a specific cause or species should email anurag(at)jeffcorwinconnect(dot)com.
MORE ABOUR JEFFCORWINCONNECT
JeffCorwinConnect is a wildlife-nature focused, trans-media edutainment Company that develops branded mobile, digital and consumer products, creating online and onsite experiences, for kids and families. The fuel behind the mission of JeffCorwinConnect is to build a global community of people who care about the future of our planet and seek to better the world for themselves and their children. Join us at http://www.facebook.com/jeffcorwinconnect and become a global citizen today.
MORE ABOUR FOOTAGE SEARCH
Footage Search Footage Search Inc., founded in 2002, is the leader in nature and wildlife stock footage, supplying premium content to production houses worldwide through the OceanFootage, NatureFootage, and AdventureFootage and 3DFootage web sites. Footage Search represents hundreds of world-class cinematographers contributing exceptional quality footage sourced on the best HD, 4K, and 35mm Film cameras. Visit us at Footage Search to browse, search, preview, download, and license and download premium stock footage.
For more information about the Jeff's Explorer Series: SHARKS, upcoming titles, interviews, images or additional background information, please contact Anurag Agarwal at anurag(at)jeffcorwinconnect(dot)com.