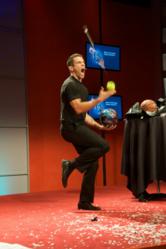 We just saw Jeff and he was absolutely fantastic. What a brilliant personality.
Las Vegas, NV (PRWEB) July 29, 2011
Entertainer Jeff Civillico has developed his personal unique brand of entertainment he calls "Comedy in Action." This exuberant performance style blends comedy, juggling, balancing, athleticism, and audience participation to produce an unforgettable experience. His highly interactive routines provide the perfect backdrop for his presence and spontaneity, allowing him to handle any situation that arises—no matter how ridiculous! Jeff has quickly become known for his ability to connect with his crowd, establishing a remarkable rapport with audiences all over the nation.
Jeff performs his 7:30 p.m. Comedy in Action Show on select nights at Planet Hollywood Restaurant at Caesars Palace Forum Shops.
About.com says: "You will get a clever performer who gives you high energy entertainment in a setting that allows you to be up close to all the action. Quick wit, fast hands and the ability to entertain the room is what the show is about. You'll also get dinner included for $25. That is a deal that cannot be beat on the Las Vegas strip."
Jeff also does a completely different 15-minute spot in the 4 p.m. Nathan Burton Show in the main showroom of The Flamingo.
For the complete "Jeff experience," see both shows on the same day! Jeff's material is completely different in each shows (both family-friendly), and the timing works out perfectly. This option allows you to see Jeff's full range on stage, performing as part of a larger cast in the 800-seat Las Vegas Flamingo Showroom as well as performing his full one-man show in a 120-seat intimate room designed for interactive, fast-paced comedy.
The Grable Group is pleased to represent Corporate Entertainer Jeff Civillico. With over two decades of experience in the entertainment industry, Tim Grable has been privileged to work with companies like Intuit, Eli Lilly, Microsoft, Pfizer, Toshiba, Deloitte, Coke-Cola, Time Warner, Alcatel-Lucent , Disney, and Mercedes Benz. Other clients include Taylor Mason, Bob Stromberg, Jeff Allen and Joe Castillo.
###